Healthy snacking has become a new trend sweeping the world by storm as people have become more conscious about their health and eating habits. It is often said that you are what you eat, a claim that has been scientifically proven as some foods have more health benefits and improve an individual's well-being. Peanuts are a healthy snack that people have adopted, especially males, because of their association with increased sperm health.
Sperm Count Continues to Decline
The decline in sperm count over the last forty years has become alarming, as shown by a study at the school of medicine at the University of Chicago. The study results demonstrate a continuous decline every decade. This issue has become alarming because the number of children being born is very low, which places humanity at the threat of extinction if this trend persists. Dr. Sarah Vij, a specialist in male fertility, advocates for a diet filled with antioxidants, fruits and nuts to boost male vitality and the health of sperm. The decline in sperm count among males has been linked to pollution, smoking and unhealthy diets. It is therefore important to reverse the problem by adopting a healthier diet.
Peanuts have been identified as a diet supplement that helps boost male fertility. This is because studies conducted on males who add peanuts to their diet daily show significant improvement in their sexual health. A report from the BBC supports this hypothesis through a study carried out over fourteen days among males who ate peanuts daily and men who did not consume any peanuts. Consumption of nuts for males is advised even by doctors because of the many health benefits associated with nuts. Below are some of the key benefits to men associated with adding peanuts to their daily diet.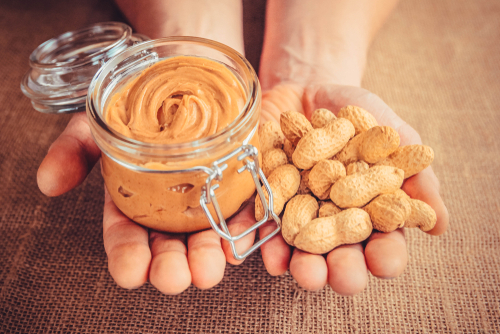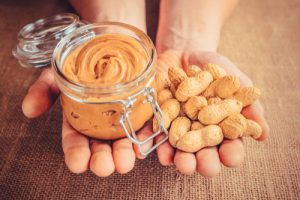 Increase Sperm Count
A healthy diet is essential for the maintenance of normal body functions and the improvement of overall health. Different kinds of nuts have been associated with increased male vitality. Peanuts help in this area because they facilitate an increase in sperm count and sperm viability.
>> Click here for The Best Nuts for Fertility Health
Increase Chances of Conception
Another key health benefit associated with the consumption of nuts is its boost towards male fertility. The sedentary lifestyle adopted in the world today, in addition to vices such as smoking, have led to a significant decline in conception rates. This problem is supported by the fact that about 50 percent of couples today have difficulties getting pregnant. Adding peanuts as part of your everyday diet helps balance the odds by creating a healthier environment for sperm to thrive in, thus increasing chances of conception.
Boost Sperm Health
Peanuts, like other nuts in their category, are filled with antioxidants, folate and omega-3. These are vital nutrients for general health and have also been said to repair DNA fragmentation which is a cause of more than half of the fertility issues in males. Intake of peanuts facilitates the process of DNA repair because they are also rich in zinc, selenium, vitamin C and vitamin E.
The compounds found in peanuts that provide health benefits associated with increased male fertility include the following:
This product facilitates flexibility in blood vessels and promotes their relaxed state. Male fertility is influenced by the level of blood flow that goes into the testes, where a healthy supply is required to create a conducive environment for sperm production. Peanuts are a higher source of arginine than other nuts, making them a proper diet addition for boosting male fertility.
Unsaturated fatty acids help in reducing inflammation in the body, thus reducing the risks of heart disease. These fatty acids also boost male fertility through reduced inflammation in the scrotum, ensuring sperm remains healthy. Peanuts contain linoleic acid, a product that facilitates the production of unsaturated poly fats in the body, thus playing a key role in boosting male fertility.
This compound helps regulate cholesterol in the body, keeping blood vessels clear for adequate blood flow. Male fertility, as stated earlier, is affected by the level of blood flow into organs associated with sperm products and sex. Phytosterol found in peanuts helps improve fertility by blocking the absorption of bad cholesterol from the intestines.
Based on the health benefits above, peanuts are a healthy addition to your diet. This is based on the increased intake of essential nutrients in the body from nuts that are a booster for male fertility.