When it comes to conceiving, there's a number of factors that can come into play for fertility struggles and delays in conception. For women, the first step for identifying potential fertility concerns can be found when examining menstrual cycle patterns and cycle tracking results.
When fertility concerns arise, and/or irregular cycles are present, an OB-GYN, GYN, or fertility specialist may begin the fertility treatment process with a number of blood samples to analyze your follicle stimulating hormone (FSH) levels. This hormone, helps regulate female reproduction cycles and is directly involved with the release of eggs from the ovaries during ovulation. An interesting note about FSH is that in men, this same hormone helps regulate male fertility by increasing sperm production.
In addition to checking for healthy FSH levels, you may also be checked to ensure the presence of adequate luteinizing hormone (LH) levels. This hormone, like FSH, plays a vital role in women's fertility and improves ovarian health in women, progesterone release after ovulation, and testicular health in males. Low levels of LH can be due to a number of factors such as primary ovarian failure, a pituitary disorder, anorexia, malnutrition, or can simply be caused due to increased stress. Physicians use LH tests to narrow down an estimated window for when an egg is released, to increase chances of ovulation.
While the female body has a number of additional hormones that play a vital role in fertility and conception, these two key fertility hormones are essential for proper ovulation, thus making their levels an important focus to ascertain any abnormalities or hormone fluctuations that may need correcting.
Common Symptoms and Causes of Low or High FSH and LH Levels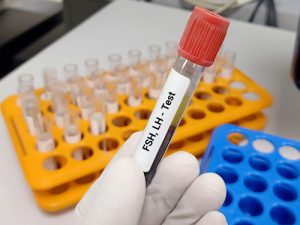 For women having trouble conceiving, fertility issues can present themselves in a number of ways. For those experiencing fluctuations in FSH or LH levels, there are a number of potential causes and common symptoms that can serve as a warning sign that these hormones need help balancing.
FSH Levels:
For adult women who are in child bearing years, normal FSH levels range from 4.7 to 21.5 International units per liter (IU/L) and become much higher after menopause, ranging from 25.8 to 134.8 IU/L.
Symptoms:
Hot flashes
Irregular or no periods
Lack of ovulation
Additional hormone imbalances
Inability to produce milk for breast-feeding
Fatigue
Low sex drive
Causes:
Low/under weight
Pituitary disorders
Symptoms:
Menopause-like symptoms
Irregular or no periods
Hot flashes
Headaches
Fatigue
Weight fluctuations
Causes:
Malfunction in the ovaries
Turner syndrome
Early onset menopause
Pituitary disorders
LH Levels:
Normal levels of LH in adult women, before menopause, range from 5 to 25 IU/L. These levels peak even higher during the middle of the menstrual cycle, and become even higher after menopause, ranging from 14.2 to 52.3 IU/L.
Symptoms:
Lack of ovulation
Irregular or no periods
Nutrient deficiencies
Causes:
Pituitary disorders
Malnutrition
Primary ovarian failure
Stress
Symptoms:
Irregular or no periods
Hot Flashes
Causes:
Pituitary disorders
PCOS
Early onset menopause
Secondary ovarian failure
Genetic conditions (i.e. Klinefelter's syndrome and Turner syndrome)
Whether high or low FSH and LH levels, these lab results can be an indication that your pituitary glands are malfunctioning in some way, leading to fewer or excessive reproductive hormone production that ultimately affect healthy ovulation. Once you begin experiencing any of these symptoms and especially if fertility struggles are present, it's important that you speak to a doctor, especially if you're nearing the age of a high-risk pregnancy and want to conceive.
If in fact you do have problems producing these hormones, or maintaining proper hormone levels, your physician may suggest natural or medically-assisted ways to increase your chances of ovulation. For those looking for holistic approaches to balance these hormones without the use of medical therapies, there are some simple lifestyle changes you can use to promote regular ovulation, boost your chances of getting pregnant and balancing your LH and FSH levels naturally.
Natural Ways to Balance LH and FSH Levels
When you want to get pregnant, and FSH and LH fluctuations are causing fertility struggles, it is important to do everything within your power to balance your body's hormones to conceive. Using these natural lifestyle changes can greatly increase chances of ovulation, especially when paired with medical intervention.