Fertility can be jeopardized by a couple of factors. Some of the most standard ones include thyroid conditions, excessive weight, sexually transmitted diseases, and uterine fibroids. However, medication can have a negative effect on your reproduction as well, even non-prescribed medications, known as over-the-counter medicine.
While some medications might be useful to treat certain conditions, their side effects may interfere adversely with the reproductive organs.
With these regards, having a consultation with your doctor regarding certain medication is paramount. Over the counter medication is considered harmful unless doctor's consultation. Continued use of non-prescribed medication can cause ultimate damage on your reproduction organs.
Impact of Non-Prescribed Medication to Reproduction
There are three major ways that non-prescribed medication can interfere with ovulation. Two of them are directly related to women: ovulation or the uterine receptivity that performs a dominant role in holding of pregnancy. Over the counter medication affects men mainly by interfering with sperm production.
In women, many medications can stimulate or hinder hormone production that will ultimately inhibit the release of the egg. Once medications are stopped, however, it can take only a few days for the body to recover and proceed normally.
Consequently, continued use of over the counter prescriptions may result to the ultimate loss of your reproductive cells. Thus, it is critical to discuss their impact with your physician prior to beginning regular use, to ensure your fertility is not jeopardized.
Over the Counter Medication That Should Be Avoided
Non-Steroidal Anti-Inflammatory Drugs (NSAIDs)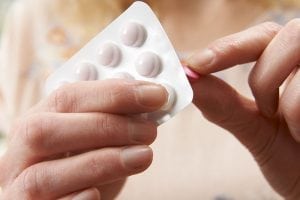 Although NSAIDs are said to perform a crucial role in arthritis, they are also described to interfere with ovulation and even sperm health.
When the ovulation process is interfered with, the female fertilization is inhibited. NSAIDs such as Motrin or Advil are said to have a key impact in inhibiting ovulation.
Moreover, ibuprofen is an over counter medication that is said to reduce headaches or period pain. However, it has been scientifically confirmed to inhibit ovulation and may lead to adverse effects on men's fertility as well.
Natural or Herbal Remedies
This type of regulation is usually described since it's not scientifically proven. Moreover, there is no control to the amount of product ingested. Some indigenous herbs stimulate hormones that can inhibit the ovulation process. In some cases, natural remedies have been linked to low sperm production.
Thyroid Prescriptions
When thyroid medication is given in to a great deal or extremely low dose, it may interfere with your reproduction organs. Scientists have suggested that continued use of thyroid prescription, asthma medication, tranquilizers, and anti-depressants may cause ordeals with the ovulation process. This however does not imply that if you have constantly used these types of medications you will definitely have fertility problems. Consequently, if you are on such medication, it is advisable you see doctor's advice.
Tranquilizers or Seizure Medication
Drugs that control high blood pressure are said to increase the level of prolactin, which has a negative effect in fertility by inhibiting ovulation. Tranquilizers affect the central nervous system which can demonstrate an impact on prolactin and the ovulation process. Most of the tranquilizers are available over the counter. In this manner, it is crucial to discuss the effects of seizure medication before ingestion.
Skin Creams
Not all skin creams can damage your ovulation. Nevertheless, skin creams that are incorporated with oestrogen or progesterone should be avoided. According to scientific research, it is difficult for these hormones to pass by the skin and affect ovulation. However, to avoid high risk chances, it is advisable to thwart them.
Large Doses of Steroids
Steroids are available over the counter in large prescriptions. Continued use of excessive steroid doses may interfere with the fertility process include ovulation and sperm health. It has been found that long-term use of these steroids leads to low sperm count.
Regardless of the type of over-the-counter medication that is being sought, when trying to conceive, it is best advised to seek advice from a physician prior to beginning medication consumption.