When you are trying to conceive—TTC, as it's commonly referred to—it's important that you are in the best health. Fitness can help your chances.
Being physically fit can make you feel better and improve your health dramatically in many aspects. It can even have a positive impact on your fertility and allow you to conceive faster. There are certain tips you can use to your advantage.
Start Exercising if TTC
If you are TTC, one of the best habits you can instill is to incorporate a regular exercise routine into your daily life. Not only can it help you feel good before and during your pregnancy, but it can also help you build better stamina for labor and childbirth. Exercising regularly can even help you to lose those stubborn pregnancy pounds faster after you've given birth.
Women with Polycystic Ovary Syndrome or PCOS and those who are overweight can even enjoy the benefit of having a higher chance of conceiving when they exercise. You can find a great workout that is easy to do and stick with it while trying to conceive and throughout your pregnancy.
Avoid Anything Overly Strenuous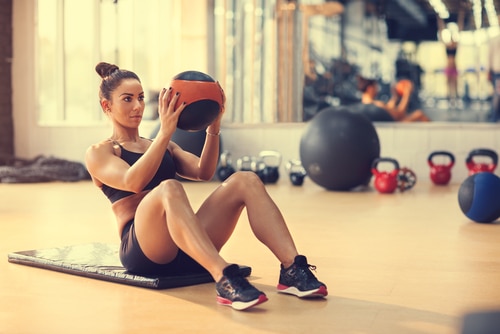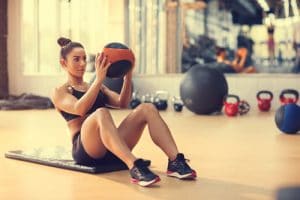 It's important to note that if you are TTC, you should avoid any exercise routine that is overly strenuous. According to a study from 2009 in Human Reproduction by Harvard, it was discovered that when women who engaged in especially vigorous exercise were trying to conceive, it actually lowered their fertility. In some serious female athletes, menstrual cycles may be disrupted, hindering their chances of getting pregnant.
Still, women who have a history of regular periods and a healthy body mass index or BMI should have an easier time when incorporating exercise into their regular routine. Women who have been TTC for more than a year and are under 35 years old should see their OB/GYN as they are considered to have fertility issues. The same goes for women over 35 who haven't been able to conceive after six months of trying.
Benefits of Yoga
Women who are TTC or who are already pregnant can greatly benefit from yoga as their regular exercise regimen. One of the best things about this form of physical activity is that it is low impact. Yoga also helps to relieve stress, which is important when you're aiming to become pregnant. Yoga is also a great exercise option due to not interfering with medications your doctor may prescribe or suggest to help with your fertility.
Of course, as with anything else, yoga is not necessarily the best option for everyone. For example, if you are TTC through intrauterine insemination (IUI) or in vitro fertilization (IVF), your doctor will advise you to temporarily stop doing it and tell you when you are safe to return to your routine. Likewise, if you have a history of miscarriage, speak to your doctor about your yoga exercises. Your doctor will also advise you on whether you should continue once you become pregnant. Generally, depending on your history, it may or may not be advised.
Switch Up Your Routine
While TTC, you can switch up your exercise routine. Doing that increases your fitness level and boosts your interests in physical activity so it doesn't become a daily chore. For instance, you can swim once or twice per week, then take a walk two other days during the week. Low impact aerobics is another good option for yet another day of the week.
Your goal with your exercise routine should be 30 to 60 minutes of low intensity per day. It doesn't adversely affect your fertility and can help you to improve your overall physical and emotional fitness. You will find that you will feel great in all aspects and will have an even better chance of having the family you've always wanted.