Over the last half-century, the average count of sperm for the typical man has dropped a whopping 50%. Although both parties in making a baby are responsible for increasing their fertility odds, men typically are forgotten when the fertility conversation comes around.
However, hope is not lost. There are plenty of foods that encourage an increase in the fertility level of men. Not only that, but these foods can easily be consumed in smoothie form.
The list below contains awesome foods that can help increase your overall sperm count and quality and can easily be added to a smoothie concoction.
Best Foods to Include in Your Male Fertility Smoothie
Pomegranate Juice
Antioxidants are super helpful for increasing your overall sperm count and the quality of your sperm. It will not only give you a boost in your fertility, but the juices are also known to increase your overall sexual health.
Leafy Green Vegetables
Your male fertility smoothie should include lots of leafy greens. Folate is found in excess in leafy green vegetables. Folate is one of the biggest sources to help increase a healthy and strong sperm count. Spinach is usually one of the ideal vegetables mixed in with most smoothies that contribute to overall health and wellness and is perfect for your male fertility smoothie.
They are also super useful for maintaining your pH balance, which creates the best environment for the sperm to travel to the egg.
Flaxseed
Omega-3 fatty acids are extremely important at not only increasing fertility but also for increasing your overall health. For fertility, these fatty acids increase the motility of your sperm and also the actual count.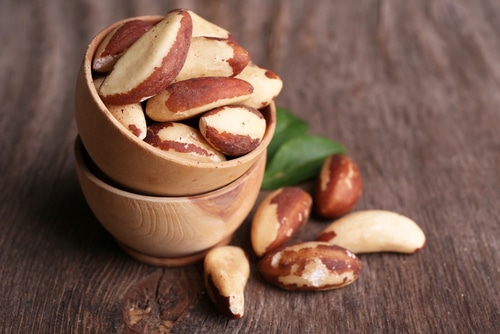 Brazil Nuts
The amount of nutrients in Brazil nuts is very large. The list includes vitamin E, zinc, fat, magnesium and protein. One of the best nutrients Brazil nuts have is selenium. Testosterone levels are very closely linked to selenium levels. If you have high testosterone, then your chances of increased fertility go up dramatically.
Maca Root
Typically, the maca root is sold as a supplement rather than raw food. However, it can still be easily mixed in both forms in your fertility smoothie. Other effects of this root include heightened sexual desire, a decrease in anxiety and an increase in overall energy.
The root is believed to increase the speed of sperm, which thereby increases the chances of fertility. Slow motility in sperm decreases those chances.
What Foods to Avoid
Since there are foods you can eat to increase your fertility, there are obviously foods that decrease sperm count and motility when consumed. Here are the top three substances in foods you should avoid when concocting your male fertility smoothie.
Pesticides
These substances typically appear in fruits and vegetables. Farmers spray their crops with this to ward off insects. However, these are very dangerous for health overall and especially the health of those attempting to become pregnant.
Soy
Soy is usually safe for consumption at other times. However, they actually increase the estrogen in men thereby creating an imbalance and decrease in sperm count.
Processed Foods
Processed foods include those foods that are chemically enhanced to increase shelf life, frozen foods and pasteurized liquids. The substances used to increase shelf life are not good for fertility and should be avoided.
Top Dos and Don'ts
There are a few things that you should know when making a male fertility smoothie. Here are common dos and don'ts you should pay attention to.
Best Dos
Always make leafy greens a priority in your shakes.
Make sure to include high-protein ingredients such as nuts, seeds and grains.
Recommended Don'ts
Be sure to lightly steam veggies before mixing them in. Raw veggies are tough on the digestive tract.
Don't add too much fruit. Low sugar content is ideal for high fertility.
Guide to Making Your Fertility Smoothie
You want to have a blueprint for your smoothie so your preparation is simple and you know your ingredients.
Start with your base of leafy greens: spinach, chard, etc. These are the foods that boost fertility the most.
Next, add your liquids. These include almond milk, coconut milk and cow's milk. All of these liquids will give the necessary fats you need to increase fertility and give your smoothies great texture.
Then you can add your base. These are the more substantial foods that increase fertility such as avocados, bananas, plantains, etc. Your base will give your smoothie a good thickness and the nutrients you need.
Lastly, you can add any other superfoods that increase fertility. Use the list above to decide which foods make you happy.
Conclusion
Being able to bring a child into the world starts with having the highest fertility chances possible. Concocting smoothies is a great tasting way to increase these chances and have a delicious time while you're at it.