Infertility is a common issue for many couples. In fact, upward of 19 percent of American couples are unable to get pregnant after one year of trying to conceive. Additionally, the Center for Disease Control (CDC) suggests that statistically, ten percent of women between the ages of 15 and 44 have trouble staying pregnant after conception, with the majority of these issues occurring due to ovulation and/or hormonal imbalances.
Though concerning statistics to hear, this can be helpful for those trying to conceive, as many hormonal imbalances and fertility issues can be a result of poor health and lifestyle habits; including smoking, alcohol abuse, poor diet, and poor stress management.
The upside of this is that simple lifestyle changes and modifications, such as additions to regular meal planning, can help increase fertility for both men and women. One fertility superfood that should be on every couple's baby making diet list is artichoke. While artichokes may be an acquired taste, these vegetables contain a number of essential nutrients and can even help the body with improved liver function. Additionally, artichokes help with the menstrual cycle's luteal phase, which is the transition from menstruation to ovulation. Having a functioning corpus luteum makes it easier for a fertilized egg to implant.
Among the nutrient benefits that make up this vegetable, artichokes are high in fiber, and are a good source of vitamins and minerals such as;
Artichoke Fertility Recipes
Like other protein-packed vegetables, artichokes can be a healthy addition when added to a fertility diet. Despite the benefits however, artichokes may be an acquired taste, so we've put together a few recipes to incorporate into your meal planning to help you enjoy the benefits of artichokes that taste great, and are easy options for couples looking to improve their chances of conception.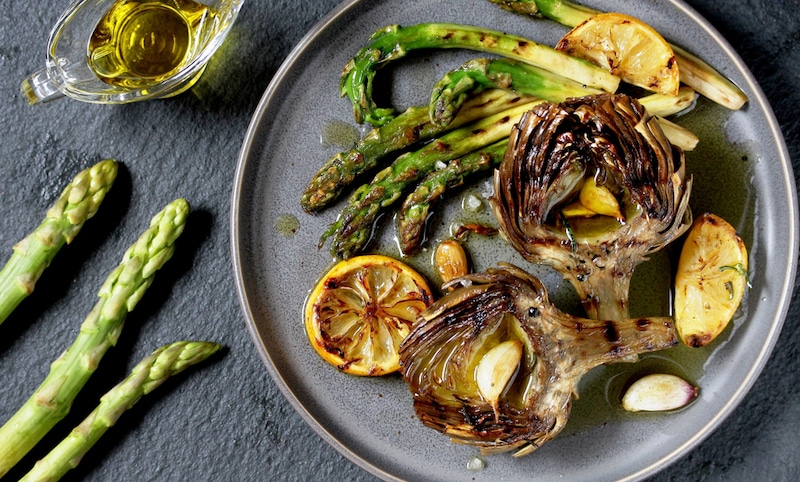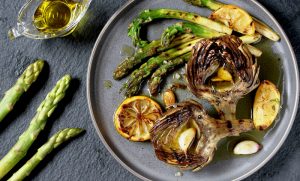 A classic but goodie, simple roasted artichokes are a perfect addition into many dishes or served up as a light side dish or appetizer.
Ingredients:
Full fresh artichokes
Olive oil or melted butter
Garlic, diced
Fresh herbs of your choice, such as oregano and thyme
2 Lemons
Sea salt and black pepper, to taste
Directions:
Begin by trimming your artichokes and slicing them in half.
After hollowing the center, rub the entire half with a lemon wedge. Then, brush each half with olive oil or butter until covered and place them facing upwards on a baking sheet.
Pack, or sprinkle (this is based on preference) the halves with garlic and herbs, salt and pepper.
Roast these halves for ten minutes uncovered before cooking them covered with foil until they are tender.
Before serving, add lemon juice and enjoy!
These pair well with Tzatziki sauce and pesto, but can also be enjoyed as they are.
If you enjoy a nice dip, and are looking for a quick snack or a pre-dinner appetizer, this is the fertility recipe for you.
Ingredients:
1 8 oz. package frozen artichoke hearts, thawed
¾+ C fresh basil leaves
1 C finely grated Parmesan cheese
¾ C green-olive tapenade
1 5.2-oz. garlic-and-herb cheese
Breads or chips of your choice (for dipping)
Directions:
Preheat your oven to 375 degrees Fahrenheit.
Add artichokes and basil to a food processor to coarsely blend.
Add Parmesan cheese, tapenade and herb cheese to the artichoke blend and transfer to a baking dish and cook for thirty minutes.
Once cooked, add basil for garnish.
If you are looking for a tasty and nutrient-dense dinner option that incorporates this superfood, but still want a fun dinner option, a pizza option is just the thing!
Ingredients:
½ tsp lemon zest
1 lemon, halved
2 large artichokes
5+ tbsp olive oil
Salt and pepper, to taste
1 lbs prepared pizza dough
2 8 oz. balls burrata, torn into 1″ pieces (or mozzarella)
¾ c green olives, pitted and chopped
1 tbsp rosemary leaves
Directions:
After preheating your oven to 450 degrees Fahrenheit, squeeze the juice of a lemon into a bowl of water.
Trim the artichokes until the hearts are exposed.
After halving each piece, dip them into lemon water to avoid browning. Thinly slice the hearts and place them in a bowl and toss together with 5 tablespoons of olive oil, salt and pepper.
Stretch pizza dough into a round nine or more inches large, to desired crust thickness and place it on a lightly oiled baking sheet or pizza pan.
Brush the dough with more olive oil and add salt and pepper over the dough.
Top the dough with cheese, olives, artichokes and rosemary.
Bake pizza for up to 15 minutes, rotating the pan halfway through for an even bake. The cheese should be bubbly, and the crust should be golden brown.
Once cooked, add lemon zest and black pepper before serving
Struggling to conceive can be difficult for any couple. By incorporating this superfood into your diet, you and your partner can reap the benefits of artichokes and be on your way to conceiving and carrying a healthy baby, knowing you have a nutritious recipe to enjoy with the superfood. Incorporating these delicious recipes into your diet along with maintaining a healthy lifestyle will help you and your partner on your journey to a great pregnancy.