This article discusses the fertility benefits of ginger. For women, ginger can improve ovarian function. And for men, ginger can increase testosterone.
Ginger is a spicy root that has medicinal properties. It is filled with nutrients and can yield a powerful anti-inflammatory response. It can be eaten raw or cooked. There are also powdered, crystallized and dried versions of it available on the market. Ginger is used heavily in Asian cuisine and as an added flavoring in a multitude of soups, sauces, candies and teas. Both women and men experiencing fertility issues can use ginger to improve their reproductive health.
The Fertility Benefits of Ginger for Women
Due to its anti-inflammatory properties, ginger is beneficial for women struggling with fertility issues. Inflammation can negatively impact the female reproductive system because it reduces blood circulation, which is necessary for ovulation, menstruation and fertilization. Ginger can calm inflammation and stimulate blood circulation. It can also strengthen immunity, helping the body stave off infections that could potentially undermine a woman's reproductive health. Infections like pelvic inflammatory disease can cause severe damage to a woman's reproductive organs and even result in infertility.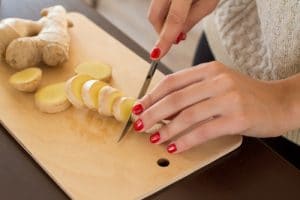 Based on existing evidence, in addition to reducing inflammation and increasing immunity, ginger has the potential to enhance fertility in women. According to a 2018 study, ginger may have a positive impact on ovarian folliculogenesis—the maturation of the ovarian follicles. And, according to that same study, it may also have a positive impact on implantation, which occurs when an embryo attaches to the uterine wall. Implantation is needed so that the embryo can obtain the oxygen and nutrients it needs for development.
The Fertility Benefits of Ginger for Men
Ginger has been shown to enhance fertility in men. In one study, men who consumed ginger increased their sperm count by 16.2%, their sperm motility by 47.3% and their sperm volume by 36.1%. The men in this study also experienced an increase in testosterone, the luteinizing hormone (LH) and the follicle-stimulating hormone (FSH). Ginger had an effect on testosterone because it led to a decline in sperm DNA fragmentation (SDF); this decline in SDF led to an increase in testosterone.
The Best Ways to Consume Ginger
For women and men dealing with fertility issues, there are some effective ways to consume ginger in order to maximize its health benefits. Powdered or dried ginger can be combined with hot water to form a fragrant tea. Chopped, diced or sliced ginger root can be added to a variety of foods such as stir-fries, soups and stews. Various forms of ginger can also be used when baking. Ground ginger can be used to make desserts like gingerbread. Chopped ginger can be used to make entrees like roasted chicken.
If a person does not particularly like the taste of ginger in food, he or she can consume it by taking ginger supplements. These supplements can be found online or in health stores. Ultimately, there are many ways women and men can take advantage of the fertility benefits of ginger.