Being able to conceive is something many take for granted. Since starting a family can be a difficult process for some couples, understanding how hormones can affect fertility is important.
How Do Hormones Affect Fertility?
To understand how hormones can affect conception, we first need to examine which hormones play a role in this process. Think of hormones as chemical messengers within the endocrine system that control a variety of body functions including reproduction. When one or more of these glands aren't functioning properly, it can affect a female's ability to reproduce.
For example, an underactive or overactive thyroid can dramatically reduce your ability to conceive. Since the thyroid gland regulates hormone production, an underactive or overactive thyroid gland can cause missed periods, excessive bleeding and a host of other conditions, all of which affect conception.
Being able to reproduce depends on a variety of factors such as sexual behavior, age, nutrition, and even timing. Females have regulated monthly hormone cycles, which determine when and if they can conceive, whereas males are usually able to reproduce continually.
Stages of the Menstrual Cycle
There are different stages during a female's menstrual cycle. On average, women are only able to conceive five to seven days during the month. Menstrual cycles are determined by the number of days from the first day of one period to the beginning of the next. This means that day one of a woman's menstrual cycle is the first full day of bleeding. On the first day, estrogen and progesterone levels are low.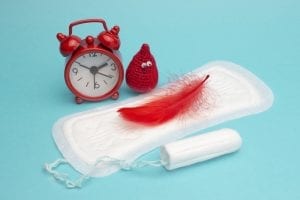 However, during the follicular phase, estrogen levels rise and follicles in the egg begin to grow. Just prior to ovulation, estrogen levels spike, which signal the luteinizing hormone to be released, stimulating the primary follicle to release an egg.
Release of the egg, or ovulation, usually occurs in the middle of the menstrual cycle. The second half of the menstrual cycle is the luteal phase. During this phase, progesterone levels start to rise, preparing the uterus for pregnancy. If conception does not occur, estrogen and progesterone levels drop and menses begin.
Premature or latent surges of progesterone can affect fertility. In males, sperm quality and reproduction rates can be affected by hormone levels, frequency of ejaculation and even certain lifestyle choices.
Signs of Hormone Imbalance
Understanding infertility from a medical point of view is important. It's also important, however, to know the signs of a possible hormonal imbalance. When it comes to infertility in females, some of the most common signs include:
Irregular bleeding
Weight loss or weight gain
Hair loss
Acne flares
Low libido
Decreased energy
Growth of facial hair
Understanding how your hormones work is essential when trying to get pregnant. If you suspect that your hormones are affecting your ability to conceive, it's important to treat the underlying cause to increase your chances of getting pregnant.