If you're trying to conceive, you may want to look toward your diet to help. You and your partner have several choices of fertility-boosting breakfast.
The right diet can certainly improve your chances if you're trying to get pregnant. Both men and women can follow certain diet tips and consume healthy, delicious food that is good for boosting fertility. It's important to be diligent and stick to fertility-friendly foods while on your journey to parenthood.
What Foods Should You Eat?
First and foremost, you should consume plenty of fruits and vegetables if you're looking to conceive. These foods can give both male and female reproductive systems a boost and improve fertility. In particular, leafy green veggies such as broccoli and kale, berries like strawberries, blueberries and raspberries, pomegranates and oranges are excellent sources of antioxidants the body needs to fight off free radicals and diseases.
Women need more folic acid when they're trying to get pregnant. However, men can also benefit from more of an intake of it as well. Both partners should also have more vitamins C and E and zinc to improve egg and sperm quality. You will both also want more iron, which can be obtained by eating spinach, beans, lean meats and fish, dried fruit and iron-fortified foods like rice, pasta and cereal.
Limiting your intake of caffeine may be tricky, but it's important when you're trying to conceive. You should also completely eliminate alcohol from your diet and drink more water. It improves the quality of cervical mucus and semen, which is absolutely essential when you're aiming to get pregnant.
Eat a Bigger, Fertility-Boosting Breakfast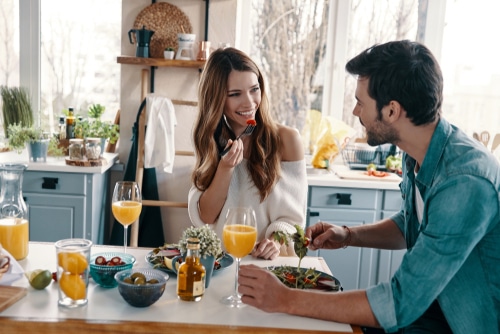 You know the old saying: Breakfast is the most important meal of the day. This is even truer if you are trying to conceive. When you consume more calories in your first meal of the day, especially when it's a fertility-boosting breakfast, you improve your chances of successfully conceiving. Regularly eating a larger breakfast can regulate certain hormones while ensuring that you and your partner get the necessary nutrient intake.
Your breakfast should always be chock full of vitamins C and D, healthy fats and iron. If you are a woman who has a fertility disorder like polycystic ovary syndrome or PCOS, you already have difficulty conceiving. A fertility-boosting breakfast can only improve your chances of pregnancy. However, even if you don't struggle with PCOS or other fertility disorders, you can only benefit from your large, nutrient-rich breakfast.
Additionally, men and women should have a moderately-sized lunch and small dinner or several small healthy meals throughout the day on top of a large, fertility-friendly breakfast. It can lower insulin and testosterone levels.
Generally, your fertility-boosting breakfast should contain half of all the calories you consume in a single day.
Breakfast Ideas for Boosting Fertility
There are plenty of great fertility-boosting breakfast ideas you can try as you start on your journey to conceive. Both men and women can eat these meals, which are delicious and nutritious. Here are some breakfasts that are sure to get your mouth watering and improve your chances:
These fertility-boosting breakfast ideas will improve your conception chances and keep you healthier and feeling fuller, in general.