When it comes to fertility concerns, chemical-based feminine hygiene products might explain why some women are unable to conceive. According to a study published by the Centers for Disease Control and Prevention (CDC), around 10 percent or roughly 6.1 million American women in the U.S. between the ages of 15 and 44 have difficulty getting pregnant or staying pregnant.
For some of these women, such struggles amount to bad luck. For others, however, the issue stems from health-related issues such as polycystic ovarian syndrome (PCOS) or endometriosis, and lifestyle choices. Among the lifestyle factors, available data shows that exposure to some everyday products can drastically reduce a woman's chances of conceiving and one day becoming a mother.
While most women are aware of staying away from certain products that are known to contain carcinogens. After all, not only can avoiding such chemicals aid in fertility health but doing so also helps lower their chances of developing cancer. However, few women are as diligent about staying clear of products that contain other harmful ingredients that cause infertility in women. Some of the products that can ruin a woman's chances of getting pregnant, giving birth, and ultimately raising a child include:
Fruits and vegetables canned in tins lined with bisphenol A (BPA)
Nail polish, perfumes, deodorants, and hair gels that contain harmful phthalates, retinoids or acetone
Oil-based paints, paint thinners, and painting supplies containing lead or mercury
Scrubs, soaps, and creams that contain estrogen-like parabens
Another of the many chemicals that can trigger infertility in women is commonly found in feminine hygiene products. Yes, the same products that most women use to manage the symptoms brought on by their monthly menstrual cycle can, according to some studies, negatively impact women's fertility health.
Steering Clear of Chemical-Based Feminine Hygiene Products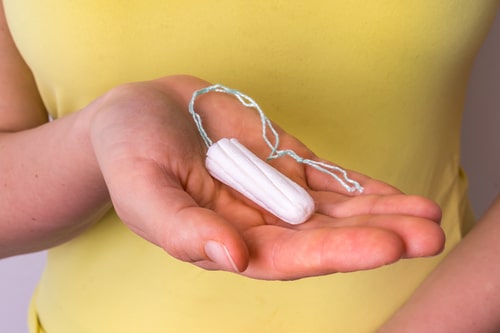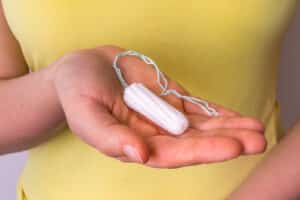 Although the medical and scientific communities have known for years that exposure to BPAs, parabens, mercury, and lead can trigger infertility in women, they only recently discovered that many feminine hygiene products currently on the market may contain many of them. Some of the biggest offenders, they found, were tampons, douches, and deodorant powders. These products, researchers said, contain harmful chemicals that either preclude women from becoming pregnant or put them at risk of developing a host of chronic diseases, cancer being one of them.
Anti-itch creams, found to commonly contain chemical allergens or irritants can exacerbate the very symptoms that women are attempting to treat with them, while many feminine care products contain formaldehyde-releasing preservatives, and formaldehyde, which is a carcinogen and a potent allergen. Additionally, many feminine washes contain ingredients deemed by the FDA to be safe "for external use only," however as the feminine wash is used, is inevitably in contact with internal areas.
When it comes to tampons that are used internally, the most commonly known ingredients include cotton, rayon, polyester, propylene, polyethylene and fiber finishes. When it comes to these fiber finishes or fragrances however, many companies remain vague about the ingredients. The ultimate reasoning for exposing many of these ingredients was due to the severe risk of death due to Toxic Shock Syndrome (TSS). TSS is a bacterial infection that has been linked to making tampons more absorbent, thus warning labels tend to state that "the risk of TSS increases with higher absorbency."
Some of the additional chemical ingredients that may be present in feminine hygiene products and pose a risk to women's fertility health include the following:
Other chemicals and products worth noting include:
According to the World Health Organization, too much exposure to lead can adversely affect multiple body systems, including the brain, liver, kidney, and bones. Such issues can severely impact a woman's fertility and overall health. Studies show over 61 percent of lipsticks currently on the market contain lead.
For those unaware, many lubricants and moisturizers that women naturally reach for when they want to get intimate or care for down there, contain petroleum jelly. The concern is that petroleum jelly contains polycyclic aromatic hydrocarbons (PAHs), which can destroy male sperm and put women at risk of developing breast and other cancers. But it does not end there; some studies show a nexus between petroleum jelly and damage to a woman's reproductive organs and fertility. Thus, opting for fertility-friendly and natural lubricants is the suggested option.
Better Feminine Care Product Alternatives:
While there are less commonly known, there are several healthy natural feminine care products available on the market. Some chemical-free alternative options include reusable pads and cups. Additionally, thought coming in at a generally higher price than more common products, there are a number of disposable items made with non-GMO organic cotton that contain no dyes, fragrances, fibers or plastic applicators.
All in all, multiple beauty, household, and feminine hygiene products can trigger fertility issues in women, thus the importance of reading labels and looking for natural alternatives when possible that can help limit exposures. Many alternatives are free of harmful chemical ingredients that are known to cause disease and interfere with fertility. For some women, making these types of modifications in product preferences can help improve the chances of conceiving.