Ovulation can trigger a variety of symptoms, the most troublesome of which is often bloating.
Ovulation is the process of an egg's being released from an ovary. This tends to happen between 11 and 14 days into your cycle. If you experience significant bloating during this time, it may be due to ovulation. The high estrogen levels that occur just before ovulation cause this. Which then give ways to the increased luteinizing hormone levels that actually trigger the release of an egg.
Why May Bloat May Occur
While this is all perfectly natural and normal, these hormones can cause your body to retain water, which leads to bloating for many women. The condition typically resolves itself after a few days. If you experience the problem longer or suspect the cause is something else, talk to your doctor.
Experiencing this phenomenon in the middle of your normal cycle may be due to an abnormal condition that could be affecting your fertility. This can include polycystic ovarian syndrome (PCOS), endometriosis, or ovarian cysts.
The Role of Weight Gain in Bloating
Most women notice that they tend to gain a few pounds when they ovulate. While this can be disheartening, it's not a result of body fat. Water retention triggered by the hormones involved in ovulation is to blame. During this time, you may also find yourself craving salty foods. Unfortunately, consuming large amounts of sodium exacerbates water retention and worsens bloating.
Aside from food cravings, there are other signs that you may be ovulating. Being aware of ovulation can help you better prepare for and manage your symptoms.
These can include the following:
A thick, stringy and wet vaginal discharge.
Rises in your basal body temperature, which can be measured with a special thermometer first thing in the morning.
Differences in your cervical position: During ovulation, the tissue may be soft and sit higher than normally in your vagina. However, this can be difficult to determine for the inexperienced. Learning how to do this is a worthwhile endeavor not only for determining ovulation but also detecting any potential medical issues early on.
Spotting, sore breasts, mild unilateral pain or cramping, an altered sense of smell or taste and heightened libido.
Is It Your Period or Ovulation?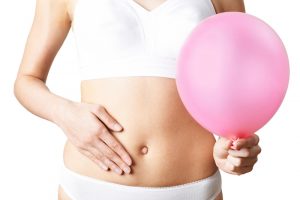 Bloating can be caused by both ovulation and menstruation. Due to their proximity to one another in your cycle, it may be difficult to tell which is causing it. The easiest way to tell is by tracking your period each month. Ovulation typically occurs between days 11 and 14 of your menstrual cycle, so if it's happening after this, it's likely a sign of PMS. PMS can start causing the symptom about a week before your period and can stick around for a week after.
Other signs that it's PMS-related can include the following:
Breast soreness
Changes in bowel movements, such as constipation or loose stools
Tiredness and irritability
Headaches or nausea
How You Can Manage Bloating
While bloating is a natural symptom, you don't have to just grin and bear it. Some methods to manage the bloating include the following:
Drink plenty of water throughout the day and avoid high salt intake, even if it means giving up some of your comfort foods. Too much salt only makes your body retain even more water.
Avoid foods that are known to cause gas since they will make bloating more severe. These may include things like spicy foods, brassica vegetables, fiber-rich foods, dairy products and legumes.
For some women, taking a magnesium supplement may help with the symptom.
For many women, the onset of ovulation can cause severe bloating as well as a host of other unpleasant symptoms. However, by learning what to expect, you can better prepare yourself and take steps to start reducing your risk of bloating before it starts.