Weight is not only an indicator of good health, but it is also an indicator of fertility. Excess weight in both men and women can decrease their odds of conceiving. With recent research as a guide, this article details the relationship between men's weight and fertility, including defining what it means to be overweight or obese and how sperm is physically affected by excess weight.
A Man's Weight and Fertility
Weight plays an important role in a couple's odds of conception. Excess weight can affect the fertility of both men and women. Overweight women have a more difficult time becoming pregnant and suffer increased complications when giving birth. What many do not know is that excess weight can also affect a man's fertility.
The effect of obesity on paternal fertility has been studied thoroughly as far back as 2006. In a study from that year conducted by the Department of Urology and Andrology at the King Abdul-Aziz Hospital in Saudi Arabia, researchers found that there was a 10 percent increase in the odds of infertility for every 20 pounds of extra weight carried by a man. Additionally, studies show that overweight and obese men take a longer time to conceive a child, regardless of the weight of the female.
New research conducted in 2017 finds a similar connection between a male's weight and his fertility. Lead researcher, Dr. Gottumukkala Achyuta Rama Raju from the Center for Assisted Reproduction at the Krishna In Vitro Fertilization Clinic conducted a study involving over 1,200 men to determine what effect obesity had on sperm production, concentration and amount. Evidence indicates that obese men not only have fewer sperm but also a lower concentration of sperm per ejaculate than their healthier counterparts. Additionally, researchers found that excess weight causes an increased likelihood of sperm developing defects. The sperm of obese men were slower-moving and depicted abnormally shaped heads that causes decreased chances of conception.
These findings echo those from a 2012 study from Australia on the effects of weight on sperm function and shape. This study by The Robinson Institute indicates that a man's weight can also affect fertility in cases where couples are undergoing infertility treatment like in-vitro fertilization (IVF). Researchers warn against drawing specific conclusions from these results due to the limited sample size, cycle numbers and the fact those receiving fertility treatments were already less fertile.
Effects of Obesity
Almost one-third of men in the United States are obese. As discussed above, research indicates that excess weight in a man affects both the quantity and quality of his sperm.
Men's weight affects fertility in the following ways:
1. Reduces sperm count
2. Reduces sperm concentration (sperm per milliliter of semen)
3. Reduces sperm motility (how well sperm moves)
4. Negatively affects sperm morphology (how well sperm are shaped)
Body Mass Index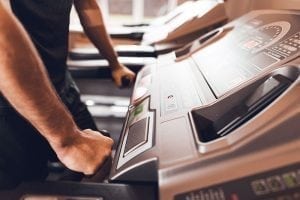 Doctors look to a patient's body mass index, or BMI, to determine whether they have a healthy weight. The BMI is a formula that depicts the relationship between a person's height, age and weight. A taller person can carry more weight without being obese, whereas a shorter person needs to be thinner in order to have a similar BMI.
To determine a person's BMI, plug their height and weight into this BMI calculator.
Underweight: Below 18.5
Normal: 18.5–24.9
Overweight: 25–29.9
Obese: 30 or higher
Effects of Weight Loss on Fertility
While more research is needed on whether exercise can negatively impact male fertility, preliminary studies show that weight loss does increase chances of conception, in males as well as females. A 2015 study published in Endocrine Society found that men who lost weight and led a healthier lifestyle had better rates of fertility than men who did not. This finding was independent of whether their female partner lost weight.