Amenorrhea can be a significant health condition that females of all ages should be aware of.
This health concern of amenorrhea, is categorized by the lack or cease of menstrual cycles in women of all ages, not due to pregnancy or menopause. The condition is separated into two distinct types;  primary amenorrhea and, the most common type, secondary amenorrhea. The primary form of amenorrhea is diagnosed in girls who do not experience their first period by at least 16 years of age. The secondary manifestation, and the most common type, impacts adult women and is defined as not experiencing a menstrual cycle for three or more consecutive months.
What are the symptoms?
While the most obvious symptom is that of a consistent missed period, accompanying manifestations can vary depending upon the specific cause. However, common symptoms can include headaches, pain in the pelvic region, vision problems, skin irritation, hair loss, growth of facial hair, nipple discharge and weight fluctuations.
Causes
Amenorrhea can be elicited by numerous precipitators, some of which depend on the type of amenorrhea in question, primary or secondary. For the purpose of this demographic we will only be referring to secondary amenorrhea from this point forward.
When it comes to amenorrhea, the first thing to understand is that a halted menstrual cycle is not a disease, however, it may be a sign that there is an underlying imbalance in the body. Because of this there are many possible causes.
For regular menstruation to occur a variety of signals and processes must be properly functioning. Simplistically speaking, the hypothalamus produces gonadotrophin-releasing hormones which then signal to the pituitary gland to produce two main hormones; luteinising hormones (LH) and follicle stimulating hormone (FSH). These hormones then signal to the ovaries that it is their turn to release estrogen and progesterone.
Because of the complexity of this process, if a single part of the cycle is off, the entire cycle will be thrown off, causing imbalances that can affect regular menstrual cycles.
Secondary amenorrhea can be precipitated by pituitary and hypothalamus abnormalities. However, glandular influence over a woman's ability to menstruate may also be affected by several environmental factors such as rapid or precipitous weight drops, excessive physical activity, long standing, serious sickness and deep emotional and/or mental stress.
Several medical conditions might also induce amenorrhea. Such illnesses include pituitary tumors, maladies that cause an elevated level of male hormones in a woman's system, cancer of the reproductive organs, polycystic ovarian syndrome (PCOS) and hypothyroidism (an underactive thyroid gland). Birth-control pills can also result in diminished menstrual periods. However, women should once again experience normal cycles upon stopping the use of oral contraception.
How Is Amenorrhea Diagnosed?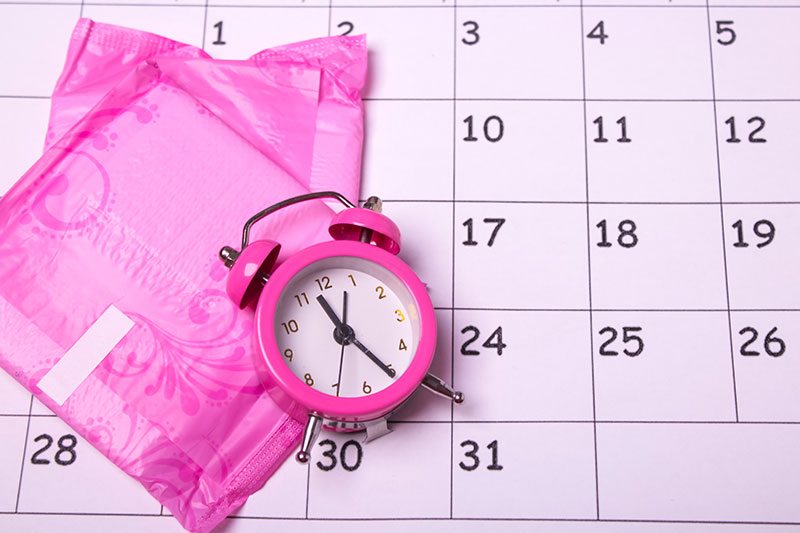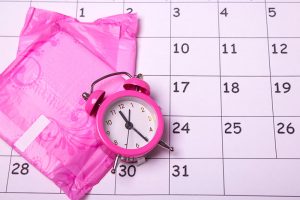 Because the condition can be the result of numerous hormonal and/or genetic issues, several tests might need to be performed before a physician can reach a clear diagnosis. Typically, the first test a doctor will order is for pregnancy. Should the results be negative, he or she will then likely examine the reproductive organs using various imaging devices such as ultrasound, CT scans and/or Magnetic Resonance Imaging (MRI).  If these examinations do not provide adequate answers, the physician may order laboratory endeavors that measure ovary and thyroid function, test whether a woman has an excessive amount of male hormones circulating through her system and/or check her prolactin levels (which might indicate the presence of pituitary tumors).
When to Seek Medical Care
For women who have had their periods regularly but suddenly miss one without the cause of pregnancy or menopause, some medical professionals suggest that they consult with their doctors the first time they miss their period, while most doctors recommend that a healthcare practitioner be notified after the absence of 3 consecutive cycles or more, to immediately pinpoint the exact cause and initiate corrective action if needed.
What Are the Available Treatment Options?
Treatment is typically geared towards correcting whatever underlying malady is responsible for precipitating the condition. Common corrective measures include medications and/or lifestyle changes such as diet adjustments. At times, when the body is not getting enough daily nutrition normal functions, including the menstrual cycle, may be thrown off. Eating a healthy, whole food diet can help supply the body with any lack of nutrients due to diet. In more severe cases, alternative treatment options may include hormone replacement therapy or surgery, in cases of further health concerns or causes.