According to a recent study by researchers at Weill Cornell Medicine, an artificial intelligence algorithm can non-invasively determine whether an in vitro fertilized embryo has a normal or abnormal chromosome count with about 70 percent accuracy. An abnormal number of chromosomes, a condition called aneuploidy, is a major reason embryos derived from in vitro fertilization (IVF) procedures do not implant or result in a healthy pregnancy.
New Algorithm Can Identify Abnormal Chromosome Number Without Biopsy
One of the current methods for detecting aneuploidy involves biopsy-like sampling and genetic testing of cells from an embryo — an approach that makes the IVF process more expensive and invasive to the embryo. The new STORK-A algorithm, described in an article published December 19 in the Lancet Digital Health, may help predict aneuploidy without the disadvantages of a biopsy. It works by analyzing microscopic images of the embryo and integrating information about the mother's age and the IVF clinic's evaluation of the embryo's appearance. The study's first author is Josue Barnes, a graduate student at the Weill Cornell Graduate School of Medical Sciences studying at the Hajirasouliha Laboratory. dr Nikica Zaninovic, associate professor of embryology in clinical obstetrics and gynecology and director of the embryology laboratory at the Ronald O. Perelman and Claudia Cohen Center for Reproductive Medicine at Weill Cornell Medicine and NewYork-Presbyterian/Weill Cornell Medical Center led the embryology work for the study.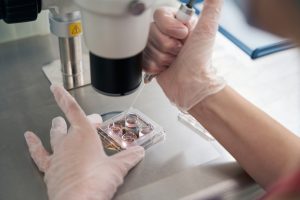 According to the U.S. Centers for Disease Control and Prevention, more than 300,000 IVF cycles were performed in the United States in 2020, resulting in approximately 80,000 live births. IVF professionals continue to look for ways to increase this success rate in order to achieve more successful pregnancies with fewer embryo transfers – which means developing better methods of identifying viable embryos. Fertility clinic staff are currently using microscopy to examine embryos for widespread abnormalities that correlate with poor viability. To obtain information about the chromosomes, clinicians may also use a biopsy method called Preimplantation Gene Testing for Aneuploidy (PGT-A), primarily in women over 37. To develop a computational approach to embryo assessment, based on the embryology laboratory's pioneering use of time-lapse photography established, researchers from the Center for Reproductive Medicine joined forces with colleagues from the England Institute.
IVF Embryo Selection Less Risky, Less Subjective, Less Costly
In a 2019 study, teams developed an artificial intelligence (AI) algorithm, STORK, that could assess the quality of embryos and IVF clinic staff. For the new study, they developed STORK-A as a potential replacement for PGT-A – or as a more selective way to decide which embryos should undergo PGT-A testing. The new STORK-A algorithm uses microscopic images of embryos taken five days after fertilization, clinical staff's assessment of embryo quality, maternal age and other information normally collected as part of the IVF process. Using AI, the algorithm automatically "learns" to correlate certain features of the data, often too subtle for the human eye, with the likelihood of aneuploidy. The team trained STORK-A with a data set of 10,378 blastocysts for which the ploidy status was already known.
Based on its performance, they rated the algorithm's accuracy in predicting aneuploid versus normal chromosomal "euploid" embryos at nearly 70 percent (69.3%). In predicting aneuploidy affecting more than one chromosome – complex aneuploidy – versus euploidy, STORK-A was 77.6 percent accurate. They later tested the algorithm on independent datasets, including one from an IVF clinic in Spain, and found comparable accuracy results demonstrating STORK-A's generalizability. The study provides a proof of concept for a currently experimental approach. Standardizing the use of STORK-A in clinics would require clinical trials comparing it to PGT-A and approval from the Food and Drug Administration — all years into the future. But the new algorithm represents a step forward in making IVF embryo selection less risky, less subjective, less costly and more accurate. The next step should be algorithms trained on videos of embryo development. Video classification is expected to allow for even greater accuracy, with the goal of eventually reaching similar accuracy to genetic testing.