Endometriosis is one of the biggest causes of infertility in women. The exact cause of the condition is unknown, but certain foods can ease the symptoms.
Generally speaking, if you suffer from severe pain during your menstrual period, you may have endo. If you have been diagnosed, your doctor may have already told you there are certain treatments that can help. Additionally, there are even foods you can eat that can ease many of your symptoms.
What Is Endometriosis?
Endometriosis, or endo, is a disorder that affects the endometrial tissue in women. There are treatments that can help combat many of the signs and symptoms associated with the condition. However, it is one of the chief causes of infertility in women who are in their childbearing years. Around 50 percent of women who struggle with infertility have the condition.
When a woman is afflicted by the condition, the uterine lining becomes thicker than normal. It is not strictly limited to the uterus, and it can spread into other organs, resulting in the growth of tissue on the ovaries, fallopian tubes, pelvic lining and even the bowel.
Causes of Endometriosis
Although the exact cause is still largely a mystery, it's believed that the following may cause the condition:
Genetics: Women who have a family history of the condition may develop it as well.
Hormones: Estrogen and progesterone may contribute to the development of endo. When there is too much estrogen, the lining of the uterus becomes inflamed and overly thick.
Menstrual backflow: When the flow of menstrual blood seeps into the pelvic area and fallopian tubes, it can create overly thick and dense endometrial tissue. In turn, this causes the endometrial cells to amass on the pelvic wall.
Immune system dysfunction: There is some belief that the immune system may play a part in the development of endometriosis. If the immune system doesn't function normally, it can result in overgrowth of endometrial tissue outside of the uterus. 
What Are the Symptoms of Endo?
Although not all women experience symptoms with this gynecological condition, many do. Some women don't learn they have the disorder until after experiencing several miscarriages or failing to get pregnant after trying for a long period of time.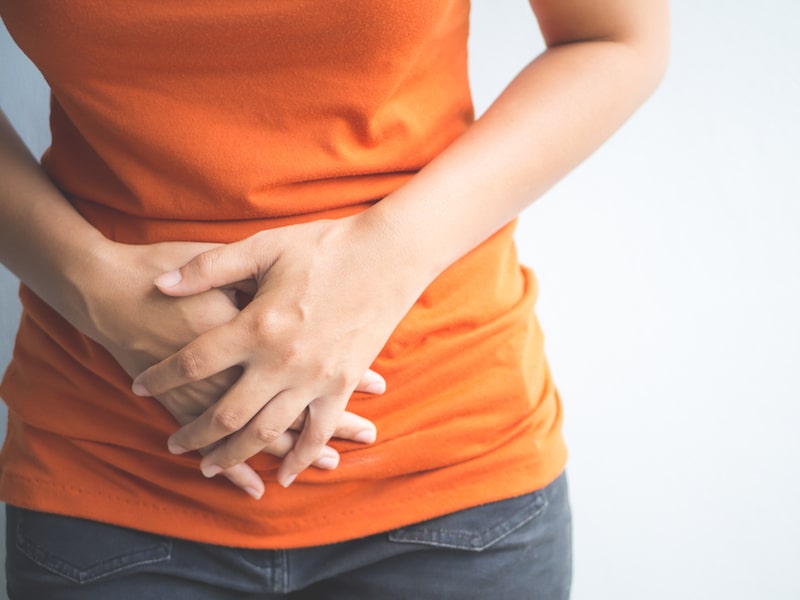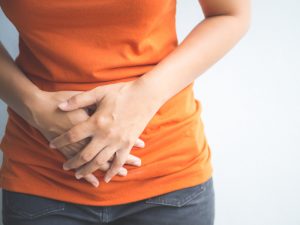 Some of the most common symptoms include the following:
Diagnosis of infertility
Difficulty with bowel movements or urinating during menstruation
Gastrointestinal problems like diarrhea
Heavy menstrual flow
Mild or severe abdominal pain
Pain during sex
Severe menstrual cramps
Spotting between menstrual periods
Food Tips
One of the best ways to naturally ease the symptoms of endometriosis is to modify your diet and aim for a low-inflammatory diet. To accomplish this, there are certain foods you can eat to better balance your hormones, boost your fertility and improve your general health.
You should aim to eat more fresh fruits and vegetables on a daily basis. Leafy greens, kale, asparagus, peas and fresh fruits can reduce your endometriosis symptoms by up to 70 percent when you eat them at least 13 times per week. Fiber is also very important as it can help prevent the development of excess estrogen. Again, dark leafy greens are a good source of fiber, as are quinoa, broccoli and beans.
Fatty acids should also be added to your diet. Essential fatty acids, such as omega-3, can help reduce inflammation, which can wreak havoc on your fertility. One of the best sources of omega-3 is wild salmon, which is delicious and healthy. Keeping fish selections to a smaller fish size can help limit mercury amounts which can aid in fertility and endometriosis symptoms. On the flip side, when it comes to protein sources, cutting down on excessive red meat can be helpful as it may exacerbate endometriosis symptoms. Instead look for hormone-free chicken or organic grass-fed beef when eating red meat.
Certain drinks may also help ease the symptoms of endometriosis. Green tea is delicious, full of antioxidants and can improve your health in a number of other ways as well. It can also help prevent the formation of endometrial lesions and is a good option to reduce caffeine intake. Additional tea options include ginger and peppermint tea which can both aid in digestion and ease symptoms.
When it comes to sweets, limiting sugar can be a major game-changer. To fill those dessert cravings opt for dark chocolate which is a lower sugar option, fresh berries or a blended frozen banana which can be enjoyed in place of ice cream.
These foods can help improve your condition. Not only will you feel better, but you will also give your fertility a big boost. It will give you a better chance to have the family you have always wanted.