Although getting pregnant seems like one of the most natural things, having endometriosis makes it more difficult, and it would be wise to assess your diet. Many times, what we eat can play a critical role in how our bodies function, and you may benefit from taking a closer look at your lifestyle to see if something simple could give you better results when trying to conceive.
We all know how babies are made, but there are a lot of details that we might not realize. Everything has to line up perfectly in order to conceive. Endometriosis, a condition where the uterine lining is growing on the outside of the uterus instead of the inside, can be a major roadblock in providing the ideal home for a newly fertilized egg.
Symptoms of Endometriosis
A classic sign you could be suffering from this condition is pain. Lower back pain, pelvic pain and pain during menstruation, sex or using the bathroom are standard examples. Because every woman's menstrual cycle is different, this syndrome often goes unnoticed and chalked up to "heavy periods." A pelvic examination by an experienced gynecologist can lead to a diagnosis, so you need to be vocal about your symptoms when visiting your doctor.
Foods to Eat if You Have Endometriosis
There are numerous foods to add to your diet if you suffer from endometriosis pain or symptoms. These are helpful with not only conceiving a child but also with the pain and discomfort you might experience on a daily basis. For many women, it can be quite a crippling reality.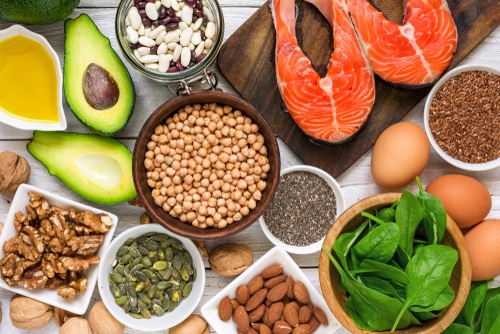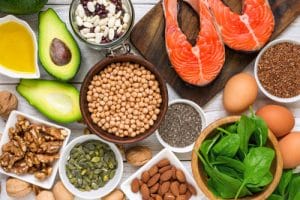 Try to incorporate more of the following:
Healthy Fats and Fatty Acids
Things like salmon, trout, walnuts and flaxseeds are high in beneficial fats and fatty acids. These, in turn, reduce the inflammation in your body and can help minimize your pain.
Fiber-rich Foods
Regular digestion plays a huge role in staying healthy, and fibrous foods are key. Keep everything running smoothly by loading up on cruciferous veggies, whole grains, fruits and legumes, and you may see a reduction in abdominal discomfort.
Foods High in Iron
Iron is an essential mineral for healthy body functionality, and this includes your menstrual cycles. Examples include dark leafy greens, black beans and other legumes, nuts and seeds, and broccoli.
Foods to Avoid
Just as there are plenty of healthy alternatives and supplements that can alleviate your endometriosis struggles, there are also several items to limit or avoid altogether if you are struggling with conception, pain or digestive issues related to your condition.
Trans fats should be strictly avoided regardless of any other health conditions you may have. Steer clear of fried and processed foods altogether as well as regular fast food consumption as these fats increase inflammation in the body and can put additional stress on the digestive system.
Gluten. There have been studies showing that a decrease in gluten is linked with a decrease in the pelvic pain and discomfort associated with this condition. This is because the amino acid profile found in gluten is similar to that of dairy. So for those with a dairy sensitivity, gluten may also be recognized by the body as problematic as well.
Dairy, which leads to increased inflammation and can also be a contributor to leaky gut, both of which may aggravate symptoms.
Sugar, which can actually exacerbate your endometriosis symptoms
Final Tips
Be sure to get your doctor involved if you are experiencing any signs or symptoms of endometriosis, because detection is an important part of treatment. If you aren't being taken seriously, see another doctor or a specialist, because leaving this condition untreated can lead to infertility. However, by consuming a healthy diet and closely monitoring your body, chances are high that you'll be able to conceive and carry a child with minimal difficulties.