If you experience the symptoms of polycystic ovary syndrome (PCOS), aromatherapy can counter the disorder. Using essential oils will naturally reverse PCOS.
Aromatherapy is a great way to treat fertility concerns by enhancing your reproductive system and reducing anxiety. By acting as hormonal adaptogens, essential oils help your body relax, heal and unwind while adjusting your hormonal imbalance. Although improving your diet, lifestyle and mindset are the prerequisites of thriving with PCOS, essential oils help to treat individual symptoms.
What Is PCOS?
PCOS is a condition where women experience hormonal imbalance that leads to prolonged or infrequent menstrual periods. One or both ovaries develop small fluid collections, thus failing to release the ovum. It affects between 5% and 20% of women within the childbearing age and approximately 70% of women with infertility.
The condition also causes acne, infertility, hirsutism, insulin imbalance and increased male hormone levels. Early diagnosis of the condition will reduce the risk of complications such as heart disease and type-2 diabetes.
Why Are Essential Oils Necessary?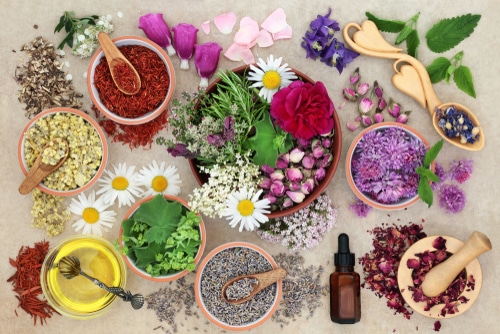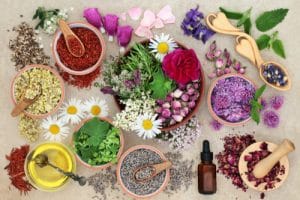 Essential oils are potent healers that impart a feeling of relaxation, restore hormonal balance and release emotional stress. These oils are derived from plants and provide an alternative healing practice through aromatherapy, a common healing practice in many parts of the world. They stimulate the olfactory system in your brain that controls the sense of smell, releasing chemicals to restore hormonal balance. It helps ease various PCOS symptoms, and some oils also improve insulin sensitivity.
Many women with PCOS are exclusively sensitive to endocrine-disruptive chemicals (EDC) in medicine, makeup, household products, water, food and many more. Essential oils provide an opportunity to avoid these EDCs. They can be used as part of your natural skincare routine. The best part about these oils is that they can impact health without side effects, unlike medicine.
Types of Essential Oils to Use
The list of essential oils that can help treat PCOS is long, since many symptoms characterize the condition. Different remedies are offered for treating irregular periods, weight gain, difficulty conceiving, hair loss or excessive hair growth. Some oils have a compound relief for many symptoms, while others address specific conditions.
Clary Sage
Clary sage helps to improve estrogen imbalance. It helps treat PMS cramping and hormonal mood swings in women with its calming properties. It is a uterine tonic that helps regulate periods and also fight acne.
Calendula
Calendula is applied externally and has anti-inflammatory properties that help regulate the menstrual period. It is also an excellent oil to use on sensitive skin such as your baby's.
Thyme
Thyme helps to balance progesterone levels in your body. It contains phytoprogestins (plant-based progesterone) that help alleviate mood swings, weight gain, insomnia and hot flashes. Low progesterone levels interfere with regular ovulation, and thyme is the commendable solution.
Sandalwood
Sandalwood helps to balance testosterone levels in both men and women. It is especially beneficial for people dealing with hirsutism, acne and male baldness. The oil's fantastic scent makes it a perfect choice for hormone balancing and libido enhancement.
Germanium
Germanium has a scent that stimulates the adrenal cortex to help hormonal balancing. It is a natural antidepressant that provides considerable anxiety relief. It is a natural ovarian and uterine tonic that can help you feel calm, improve fertility and fight acne.
Lavender
Lavender is another natural oil that helps fight anxiety, promote relaxation and treat depression. Its use helps relieve the stress response of the menstrual period. It is also a reliable therapy for pain, insomnia, menstrual cramps and PMS symptoms like dysmenorrhea.
Cinnamon
Cinnamon has an exclusive ability to help women dealing with insulin resistance. It improves insulin sensitivity for women with PCOS by regulating blood glucose levels and lipids. Its scent positively affects satiety, thus helping in weight loss.
Black Cumin
Like cinnamon, black cumin helps to improve insulin resistance and elevate blood sugar levels. Also known as Nigella sativa, the oil has been used traditionally for centuries to treat migraines, Alzheimer's and diabetes, among other issues.
Ylang-Ylang
Ylang-ylang is a natural antidepressant that helps balance adrenals and cortisol to combat stress. Its exotic fragrance balances skin oils, improves hair growth, boosts fertility and alters self-esteem in women.
There are many other essential oils that you can try for different PCOS issues, such as:
German chamomile
Rose otto
Sweet fennel
Yarrow
Cypress
Frankincense
Myrrh
Myrtle
Tarragon
These oils have various application methods, including inhaling, ingesting or applying on the skin. How you decide to use them depends on your preference.