If you have polycystic ovarian syndrome (PCOS), it's not uncommon that you may have been told that IVF will be your only route to pregnancy, that medications and prescriptions will be the only solution for symptoms or even that it would be more beneficial to not set your heart on conceiving in the first place. These are just some comments you should absolutely disregard and seek alternate resources and recommendations. Among the many solutions and routes to take for symptom relief may include acupuncture, also called stylostixis.
Acupuncture in the Treatment of PCOS
PCOS is a hormonal disorder that affects women of reproductive age. It is characterized by multiple cysts on the ovaries, high levels of insulin and abnormal hormone levels. PCOS can cause various symptoms, including irregular periods, infertility, weight gain, acne and excess hair growth.
For some women dealing with this condition, acupuncture can be an effective treatment for PCOS by regulating hormone levels, improving insulin sensitivity and reducing symptoms. Several studies have shown that acupuncture can improve ovulation, reduce the size of ovarian cysts and improve pregnancy rates in women with PCOS.
Acupuncture and Insulin Resistance
Insulin resistance occurs when the body's cells become resistant to the hormone insulin. This resistance makes it difficult for the body to process glucose, leading to high blood sugar levels. Stylostixis has been shown to improve insulin sensitivity and help the body better process glucose.
A recent study found that acupuncture improved insulin sensitivity by 50 percent in people with insulin resistance. The study also found that stylostixis reduced fasting blood sugar levels by 30 percent. These findings suggest that it could be a valuable treatment for insulin resistance and even type 2 diabetes.
Why Are More Women with PCOS Considering Acupuncture?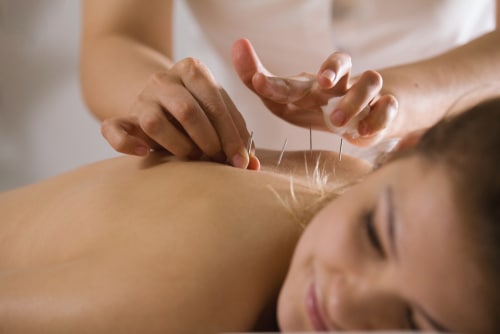 Acupuncture is an ancient Chinese practice that involves inserting thin needles into the skin at specific points on the body. It is said to help with various conditions, including pain relief, stress reduction and, more recently, PCOS.
A growing body of research is beginning to support acupuncture for PCOS. One study found that stylostixis improved ovulation rates in women with PCOS, while another found that it helped reduce levels of the hormone testosterone.
It is a relatively safe and low-risk treatment, and more and more women with PCOS are considering it a possible option.
Types of Acupuncture for PCOS
Two main types of acupuncture are effective for treating PCOS:
Traditional Chinese Medicine (TCM) Acupuncture. This type of acupuncture is based on the belief that imbalances in the flow of energy (qi) in the body cause disease. TCM practitioners use it to correct these imbalances and restore health.
Japanese Acupuncture. This type is based on the belief that the cause of the disease is an imbalance of the body's natural forces. Japanese practitioners use it to correct these imbalances and restore health.
Both types effectively treat PCOS symptoms, and many women find that one style works better for them than the other. It is essential to find a qualified and experienced practitioner who can tailor the treatment to your individual needs.
Which Benefits Does Stylostixis Have for Women with PCOS?
Acupuncture has been helping women all over the world for hundreds of years, and now there is an option for women suffering from infertility due to polycystic ovary syndrome (PCOS). A few clinical trials have shown that it may help with menopause symptoms as well as improve ovulatory dysfunction. Additionally, it may also increase insulin sensitivity and decrease testosterone production in women.
It can be used alone or in conjunction with more conventional treatments, which means the patient gets the best of both worlds (i.e., alternative medicine and conventional medicine) while simultaneously having the freedom to pick whichever treatment they feel most comfortable with when it comes down to their overall well-being and health goals. While this treatment has been used to treat certain conditions, including PCOS, it is vital to make sure you are aware of the situation and its symptoms before trying any alternative therapies.
Click here to learn more about How to Overcome Infertility with Acupuncture 
Stylostixis and traditional Chinese medicine have shown to be very effective in treating PCOS. Treatments for PCOS often focus on unblocking and soothing the blood flow in female organs, strengthening and nourishing the kidneys, invigorating the blood flow and ridding of blood stasis. Electro-acupuncture has been shown to be an effective way to help women with PCOS regulate their periods.
In conclusion, PCOS is a common condition that affects thousands of women around the world. If you are suffering from PCOS, acupuncture may be right for you. Stylostixis for PCOS is a viable alternative to hormonal contraception and is safe to use until pregnancy.