Male infertility refers to a man's inability to impregnate a fertile woman. It occurs as a result of medical, environmental, genetic and lifestyle factors.
Male infertility is a common problem that occurs worldwide. Typically, it happens when a man is unable to produce healthy sperm due to an impaired male reproductive system. The impaired system may have a low sperm count, or may produce sperm that cannot move and reach the fertile egg of a female.
Medical Causes of Male Infertility
There are treatments and health problems that may distort your male reproductive system. They include:
Infections such as inflammation of the epididymis, and orchitis, which refers to the inflammation of the testicles, are possible causes of infertility in men. They may cause infertility by affecting the normal sperm production or sperm health and may cause blockage of the sperm passage. Other infections that may cause infertility in male include sexually transmitted diseases such as HIV and gonorrhea. The good thing with these infections is that most of them can be treated to restore fertility.
Certain medications and treatment methods including chemotherapy for cancer, antifungal medications, testosterone replacement therapy and ulcer drugs may render a man unable to impregnate a woman. Long-term use of anabolic steroids may also cause this problem. Surgical operations such as inguinal hernia repairs, prostate surgery and scrotal surgery may also impair your reproductive system, leading to infertility.
Environmental Causes
The environment can also affect male sperm health. Damage to the reproductive ability can be caused by:
Extended exposure to industrial chemicals including toluene, xylene, herbicides, pesticides, and lead, which cause low sperm count.
Long-term exposure to radiation rays, which reduces your sperm production.
Testicular overheating. These are conditions such as long-term use of a hot shower, sauna visits, tight underpants and warm working places, which exposes the testicles to high temperatures, causing denaturing of the sperms. If the temperature in the testicles is too high, the amount of sperm will decrease. Remember, your sperms are protein in nature; hence, easily destroyed by higher temperatures.
Lifestyle and Genetic Factors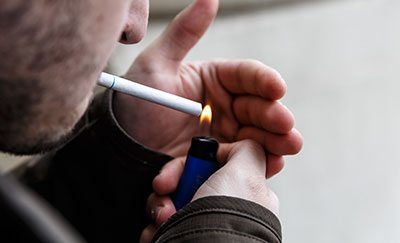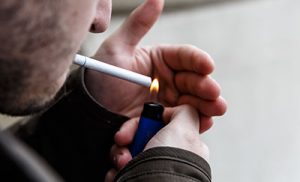 Lifestyle factors such as stress, alcohol and drug abuse and tobacco may cause infertility in men. For instance, stress hinders the production of hormones necessary for your sperm production. Overconsumption of alcohol may lower the levels of your testosterone, which is the primary male sex hormone. Overweight or underweight can also affect male fertility as it reduces the number of sperm cells.
One genetic cause of infertility in men is Klinefelter syndrome, which is an inheritable chromosomal defect in which a male is born with an extra X chromosome, leading to an abnormality in the male reproductive system development or cryptorchidism.
Signs and Symptoms of Infertility in Men
Infertility in men mainly manifests in the inability to conceive a baby with a woman. On top of this, the following symptoms may signify infertility:
Difficulty ejaculating during sex.
Respiratory infections that occur frequently.
Minimal body or facial hair.
Testicular swelling or pain.
Abnormality in breast development.
It is advisable to visit a doctor immediately one or more of these symptoms appear. This ensures early diagnosis and treatment of the underlying cause to prevent the problem from worsening.
Diagnosis
To find the cause of male infertility, different methods are available. A diagnosis typically involves:
Semen analysis. Here, a semen sample is collected and then taken to a lab for analysis. The analysis involves checking the sperm for any abnormalities, including morphology, density and motility.
General examination. This involves a physical examination of your genitals, accompanied with answering questions about your family history and other health problems that may be causing your infertility.
Other methods that may help in testing infertility in male include genetic tests, testicular biopsy, post-ejaculation urinalysis and scrotal ultrasound.
Overcoming Infertility in Men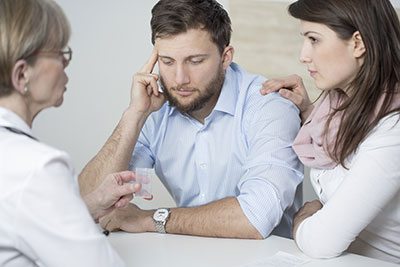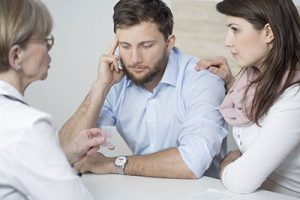 Overcoming infertility in men should involve, depending on the cause, a multifaceted approach, including treatments, drugs and lifestyle changes.
Lifestyle remedies. These are the changes you can undertake at home to regain your fertility. The changes may include avoiding excessive alcohol intake, drug abuse and causes of emotional stress.

In addition, a healthy diet and moderate sports should be pursued.

Limiting the use of lubricants such a lotion, which hinders sperm movement, may also help.
Treatment and drugs. Treating infections such as sexually transmitted diseases that may cause infertility helps address the problem. Hormone replacement therapy may be appropriate in cases where your infertility is due to inappropriate levels of male reproductive hormones. Other treatment methods include assisted reproductive technology in which the sperm is obtained through normal ejaculation, donors or surgical extraction (

e.g. Testicular sperm extraction)

and then inserted into the female reproductive system for fertilization to occur using methods such as Intrauterine Insemination (IUI) or Intracytoplasmic Sperm Injection (ICSI).