Polycystic Ovary Syndrome, PCOS, is a hormonal disorder that is caused when a woman's body produces too many androgens. Androgens are the hormones that cause male physical development, such as testosterone. This hormonal imbalance can often cause issues with a woman's ovulation process or having a regular menstrual cycle. This influx of male hormones within the body often keeps the ovaries from releasing eggs, and the ovarian sacs can clump together to form cysts.
Risk for Diabetes
Insulin resistance is a condition that is closely linked with PCOS. This is the inability for cells to properly produce insulin. Insulin helps the body to break down glucose in food and turn it into energy. If the body feels that there is a deficiency of glucose, the body may begin producing an additional amount of insulin. This can result in an excess of insulin throughout the body. This imbalance can lead to the development of diabetes.
Research shows that woman who have PCOS are four times more likely to be at risk for Type 2 Diabetes, and are diagnosed four years earlier than many women without PCOS. The average age for a woman with PCOS to be diagnosed with diabetes is 31 years old, and a woman who is diagnosed without PCOS is 35 years old. Diabetes is a disease in which the body's ability to respond or produce the hormone insulin is impaired. This results in elevated levels of glucose in the blood and urine and an abnormal metabolism of carbohydrates. The study's conductors determined that body mass index, BMI, and fasting blood glucose levels are the best predictors of the development for Type 2 Diabetes.
Some risk factors for prediabetes or diabetes are:
High blood pressure
Gestational diabetes
Low HDL cholesterol
A family history of type 2 diabetes
Delivering a baby weighing more than 9 pounds
Certain ethnic groups, including African Americans, Hispanic Americans, Asian Americans, Native Americans, and Pacific Islanders also face a greater risk.
Diabetes is one of the bigger causes of infertility within both men and women. It is important to try and reduce your risk of developing diabetes, when you are trying to conceive.
How to Lower Your Risk of Developing Diabetes with PCOS
There are a few different steps that you can take to help lower your risk of diabetes. It is important to keep in mind that women with PCOS are at a higher risk of developing diabetes before, during, and after pregnancy. Therefore, you might consider making some of these steps part of your regular routine of life.
Blood Tests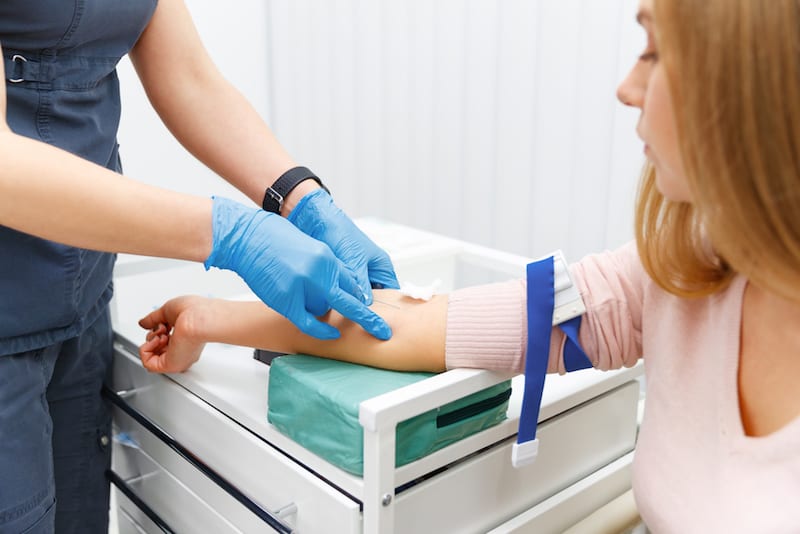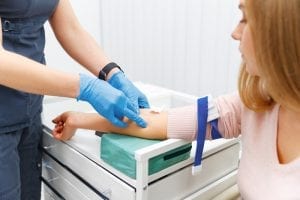 For a majority of women, insulin resistance and chronic inflammation are the reasoning behind their PCOS. Due to this it is important to get regular blood tests to measure insulin and fasting glucose levels.
A fasting insulin level of 8.4 IU/ml is considered normal.
If your fasting glucose levels are above 100 mg/dl, in the 100 mg/dl -125 mg/dl range, it is possible that you have insulin resistance and could be prediabetic. If your fasting glucose level is about 125 mg/dl this may mean you already have diabetes.
It is important to try to get your fasting insulin level as low as possible. If your levels are higher and you have insulin resistance this will make your cells less sensitive to insulin over time.
PCOS Diet
A PCOS diet is designed to help mitigate insulin resistance and to help prevent diabetes. This diet works to help improve the overall condition of the uterus, and the chances for ovulation. The diet needs to include many foods that are low on the Glycemic Index. This includes foods such as leafy greens and sour fruits. Foods such as this, help to balance blood sugar levels and will not create a disruption within insulin levels. Protein used within the diet should be low in saturated fat, such as low fat dairy options, poultry, and seafood. It is important to seek out organic options when available. Organic food options will help to avoid unnecessary chemicals that may disrupt your body's hormone balance even more. Carbohydrates that are one hundred percent whole grain are the best option for this diet. These foods will help offer protein and fiber, that will cause a slow release of energy into the bloodstream. It is vital to have a healthy balance of protein with carbohydrates to help avoid drops and spikes in blood sugar. The elimination of caffeine will also help to avoid spikes in adrenaline which have been known to imbalance hormones even further.
Exercise
Along with the right diet to reduce carbohydrates and the intake of good fats, the right exercise program will help to reduce the risk of diabetes with PCOS when trying to conceive. The focus for exercise should be on developing more muscle mass. More muscle mass means that you can better metabolise glucose and handle carbs better. You could try using weight routines with HIIT, high intensity intermittent exercise, and LISS, low intensity steady cardio state – such as walking. However, it is important that whatever exercise plan you chose, you do not overexert and stress your body. Working out too much and stressing out the body can also further hormone imbalance. 
Supplements and Herbs
There are some herbs and supplements that may help to manage your insulin and glucose levels with PCOS. Vitamin D can help with insulin resistance because it helps the body achieve the proper breakdown of glucose. Vitamin D deficiency could result in insulin resistance, so it is important to take Vitamin D daily. Chromium is a trace mineral that enhances the function of insulin. It can reverse insulin resistance by turning on the insulin receptor kinase. This is an enzyme that helps to make insulin in the body more effective. Chromium supplements can help to lower blood glucose levels.
Final Thoughts
PCOS and diabetes can both make trying to conceive difficult. It is important to keep in mind that every woman's body is different. Just because you have PCOS does not mean that you will become diabetic. However, being more at risk than women who do not have PCOS, taking precautions to help avoid diabetes may be in your best interest.