One of the more common herbs used in holistic health, red clover is a common wildflower, that has been used for many years to address various health issues, including female fertility and menstrual irregularities. This organic source of vitamins, minerals, and chemical substances helps support the health of the female reproductive system, and for some, helps increase the chances of conception.
What is Red Clover?
Red clover is a flowering plant that is part of the legume family. Native to Europe, Asia, and North America, it can be identified by its pink or white sweet-scented flowers.
When it comes to holistic healing and remedies, red clover has been commonly used for centuries as an herbal remedy for various ailments such as respiratory issues, skin disorders, inflammatory conditions and women's health. The beneficial results coming from the plant's rich makeup of calcium, magnesium, potassium, and vitamin C.
Like most herbal remedies, red clover is available in a variety of supplemental formulas, teas, and tinctures. In addition, it is sometimes applied to the skin as a cream or ointment.
While this plant is known to have many benefits that span a multitude of health concerns, one of the most intriguing impacts is its ability to improve fertility and reproductive health in women.
Red Clover and Female Fertility
When it comes to red clover's impact on female fertility, benefits and improvements in reproductive health occurs in a few ways. One of the most well-known is its ability to regulate hormones in the body. This plant contains several plant estrogens, known as phytoestrogens, which can bind to estrogen receptors, creating estrogen-like responses in the body, and helping regulate hormone levels. This can be most beneficial for women who have irregular menstrual cycles or even for those who are experiencing menopausal or premenopausal symptoms.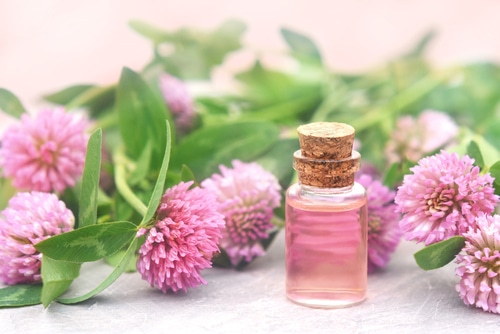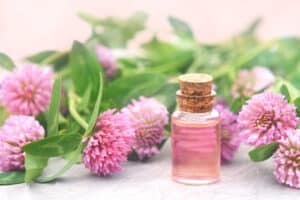 Red clover can also improve the quality of the uterine lining. Rich in several nutrients, including calcium, magnesium, and vitamin C, this herb provides essential nutrients for building a healthy endometrium, also known as the uterine lining, which is necessary for implantation and a successful pregnancy.
In addition, red clover is also a good source of natural antioxidants, which can help protect the eggs and sperm from the negative effects of oxidative stress and free radicals, which damage DNA and can lead to infertility.
Lastly, this herbs effect on overall health in general can positively impact reproductive health as a type of domino effect. This herb's rich source of vitamins, minerals, and phytonutrients help support the immune system, reduce inflammation, and promote overall health, which in turn can create improved fertility a good foundation for conception.
Red Clover and Male Health
While red clover provides a slew of benefits when it comes to women's health and fertility, the benefits aren't limited to just women's reproductive health. Due to red clover's high levels of zinc, selenium, and magnesium, which are all critical for reproductive health, men can benefit with improved sperm health and sperm production. Selenium, in particular, has been shown to improve sperm motility.
As a good source of isoflavones, which can also mimic the effects of estrogen in the body. Red clover can also benefit men, as low estrogen levels have been linked to poor sperm quality.
Taking Red Clover for Fertility
The red clover herb is a common ingredient in many herbal teas and supplements and is generally considered safe. However, there are a few precautions to be aware of before taking red clover for fertility purposes:
Red clover may interact with certain prescription medications, so it's essential to speak with a healthcare provider before taking this herb if it will be combined with any medications.
Though fertility may not be a concern during pregnancy or the postpartum phase, this herb is not recommended for women who are pregnant or breastfeeding, as the estrogen-like effect can impact pregnancy or milk production.
The phytoestrogens may negatively affect women with certain conditions like endometriosis or uterine fibroids, so seeking advice from a specialist or OB-GYN prior to use is advised.
Due to the plant-based estrogens, this herb should also be avoided by women with a history of breast cancer.
With the exception of demographics listed above, red clover is generally a safe and effective herb, thus its continued use to help promote fertility. For those considering taking it for fertility purposes, speaking with a healthcare provider first to ensure its effectiveness and dosage is correct for a given situation is advised.