Approximately one out of every eight couples suffers from infertility. New research shows that the keto diet may help improve fertility.
Though infertility may seem like an isolating experience, research shows that it is more common than you might think. According to the Centers for Disease Control, an estimated 12 percent of women between the ages of 15 and 44 have trouble conceiving and carrying the baby full-term. Additionally, approximately 7.3 million women have turned to infertility treatments to conceive a baby. Instead of turning to treatments, patients looking to conceive naturally may benefit from making lifestyle changes and following keto.
What Is the Keto Diet?
The "keto diet" is more than just a fad diet; it's a lifestyle change that involves eating very few carbohydrates, a moderate amount of protein and a high amount of fat. Those who follow the keto lifestyle typically track their macronutrients in order to keep the food that is consumed in the approximate ranges of 75 percent fat, 20 percent protein, and five percent carbohydrates. Though many people don't choose to track their calories, some experts recommend staying within a certain caloric daily range for the best results in weight loss and health improvements.
The human body normally relies on its glycogen stores in order to fuel energy. The body takes the carbohydrates from breads, sugars and fruit, and then stores them in the body as glycogen for easy energy. When carbohydrate consumption severely drops, the body must rely on other sources for energy. That's where fat comes into play. Fat is broken down in the liver and converted into ketones to use as an energy source. When this occurs, insulin levels severely drop, cravings decrease, and weight loss occurs.
Typical Daily Keto Menu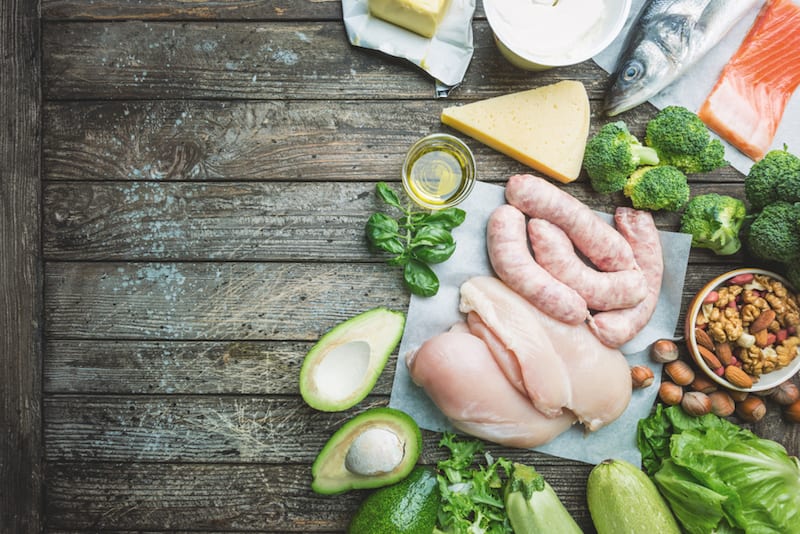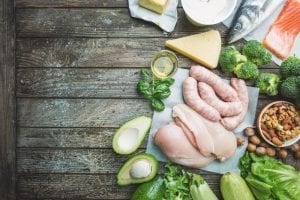 Because the macronutrients in the keto lifestyle are very different from people's normal food
intake, it may be difficult to figure out how to follow the diet. A typical keto daily diet may include the following:
Eggs cooked in butter with bacon and cheese for breakfast
Salad with sliced steak and full-fat dressing for lunch
Vegetables sautéed in butter with grilled chicken breast topped with cheese and diced avocado for dinner
Infertility and PCOS
Infertility is defined as being unable to conceive a baby after trying for one year. One of the most common reasons for infertility is a condition known as polycystic ovarian syndrome (PCOS). The condition affects approximately 10 percent of women in the United States and can cause irregular ovulation.
When a woman has PCOS, her body makes an excess amount of androgen, a male hormone that is produced in the adrenal glands, ovaries, and fat cells. Normally, the female body makes a small amount of androgen and its production assists in the making of estrogen, causing puberty to occur and preventing bone loss. When too much androgen is produced, women may experience irregular menstrual cycles, excess acne, and facial hair growth.
The excess androgen production typically occurs because of insulin resistance. Insulin is a hormone that helps the body use the carbohydrates and sugar that are consumed. If a person is insulin-resistant, the individual's body doesn't use the insulin correctly, which signals the pancreas to create more insulin. The high amount of insulin in the body increases androgen production, which leads to the development of PCOS. Studies show that approximately 70 percent of women with PCOS have insulin resistance and that 80 percent of women with PCOS are overweight or obese.
How the Keto Lifestyle Can Help Reduce PCOS and Increase Fertility
When the body converts to using ketones as fuel rather than glycogen, it no longer needs large amounts of insulin. Insulin levels decrease, which in turn decreases insulin resistance. A 2005 study found that women who followed keto for 24 weeks experienced the following results:
12-percent decrease in body weight
36-percent decrease in LH/FSH levels
22-percent decrease in free testosterone levels
54-percent decrease in fasting insulin levels
Additionally, a 2007 study found that women who followed a low carbohydrate diet improved their reproductive hormone levels and increased their fertility. Following the keto lifestyle may greatly increase the change in fertility without any medical intervention.
Though many women have success getting pregnant by following the keto lifestyle, it's a good idea to talk with a medical doctor before beginning any diet and to discuss other possible causes behind infertility.