Good egg quality is a crucial factor when women try to conceive. Unfortunately, egg quality declines relatively early, from the age of 30 years onwards, making it increasingly difficult to get pregnant. DNA repair becomes less efficient over time. Also egg cells are affected. But it's not only our age that matters.
Important Substances for Healthy Egg Cells
Certain environmental factors, poor diet, alcohol and nicotine also affect egg quality. A healthy lifestyle can help improve egg quality and increase the chances of successful conception. Selected vitamins and minerals have positive effect on the egg cells. These include different B vitamins. Studies suggest that healthy levels of folic acid and vitamin B12 increase egg vitality. This improves the chances of the embryo implanting in the uterus.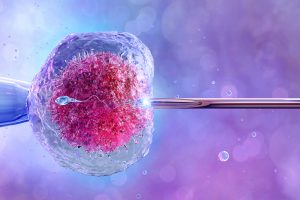 Co-enzyme Q10 also increases the chances of a successful implantation and improves the fertilization ability of the egg cell. Zinc is important for proper cell divisions in the egg cell. EGCG, epigallocatechin gallate, is an antioxidant found in green tea. Animal experiments prove the positive effect of this substance on the maturation of the egg cells. Last but not least, the hormone melatonin also plays an important role. It is an effective antioxidant that supports numerous processes in the body and protects the ovum from free radicals. Melatonin also promotes the maturation of the ovum and the development of the embryo.
Coenzyme NAD+ Improves Egg Quality
While women can do a lot to improve the quality of their eggs, medical professionals continue to look for new ways to help couples increase their chances of conceiving. Research has always been focused on how to enhance egg cells to increase female fertility. For example, researchers at the University of Queensland have found that increasing levels of a certain chemical found in all human cells could help select the best eggs for IVF. During their study, the experts found that the quality of the oocytes depends crucially on the most important metabolic coenzyme, also known as N Nicotinamide Adenine Dinucleotide (NAD+). This enzyme is so important because it is involved in numerous metabolic processes. However, the levels decrease with age.
Researchers believe that maintaining a constant level of NAD+ in the body improves a woman's chances of getting pregnant. This would benefit women undergoing IVF as well as those trying to conceive naturally. Even if IVF is a promising procedure, the older a woman is, the chances decrease. Nevertheless, many patients undergo such a procedure later in life. This is a big problem because women over 40 have only an 8 percent chance of getting pregnant while using IVF. For this reason, it is crucial to take measures to improve the chances of conception. Researchers hope these studies, along with advances in technology, will help select the best eggs for IVF, increasing the success rate.
Pheromones Counteract the Aging Process of Egg Cells
We already know that oocytes age naturally. But can this aging process be prevented at all? According to a Northwestern University study, male pheromones could be the fountain of youth for aging eggs. The researchers worked with the tiny transparent roundworm C. elegans, an established model organism. They found that female dishworms exposed to male pheromones (a chemical messenger) experienced slower egg aging, resulting in healthier offspring. In addition, there were twice as few chromosomal anomalies in the offspring. Embryonic death was also reduced due to the pheromones by more than twofold.
In addition, female animals exposed to the pheromone showed better oocyte quality compared to the roundworms in the control group. Working outside the body, pheromones are chemicals that animals produce and release to elicit social responses from other members of their kind. And they inform animals about how to manage their finite energy. Although the pheromones that roundworms use are not found in humans, the neurons are very similar. The researchers are working to develop measures to manipulate these neurons. This could help to improve female fertility.