Endometriosis is a disease that affects millions of women worldwide. Melatonin is an excellent treatment for many of the symptoms of endometriosis, despite the fact that there is no cure. In this complete overview, we'll examine the benefits of melatonin in endometriosis treatment and how it may help you live a better life.
What Is Endometriosis?
It's an estrogen-dependent, long-term disease marked by the presence of endometrial tissue outside the uterus. Endometriosis most commonly affects the ovaries, fallopian tubes and pelvic tissue. It can occasionally be seen outside of the pelvic organ region.
Endometriosis causes endometrial-like tissue to expand, break down and bleed like endometrial tissue throughout each menstrual cycle. This tissue, however, gets bound since it can't exit your body. When endometriosis affects the ovaries, endometriomas form cysts. Scar tissue and adhesions, which are bands of fibrous tissue that cause pelvic tissues and organs to stick together, can occur as a result of irritation of the surrounding tissue.
What Is Melatonin?
Melatonin is a hormone produced by your brain in reaction to the darkness. It aids sleep and the timing of your circadian rhythms (24-hour internal clock). Its synthesis can be disrupted by being exposed to light late at night.
The recommended dose of melatonin is between 0.25 mg and 20 mg per day. The most common side effects are drowsiness and headaches.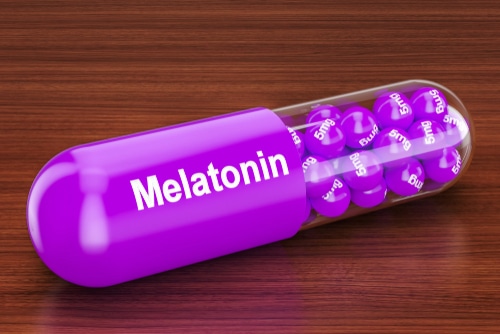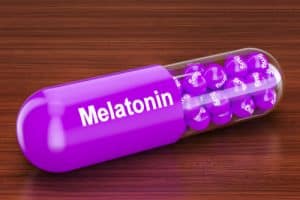 Exceptions to this dosage include:
The recommended amount for treating jet lag is 0.25 mg to 0.50 mg each time zone crossed, administered once per day once you arrive at your destination.
The suggested dose for treating insomnia is between 0.50 mg to 20 mg, administered 30 minutes before bedtime.
Benefits of Using Melatonin to Treat Endometriosis
Melatonin helps regulate the body's sleep-wake cycle by increasing melatonin production in the brain. This can help reduce fatigue and improve sleep quality in women with endometriosis.
Several clinical trials have shown that melatonin is an effective treatment for endometriosis-related pain. In a double-blind, placebo-controlled trial, women with endometriosis were given either melatonin or a placebo for six months. The results revealed that this medication reduced endometriosis-related pain much better than the placebo.
This treatment was shown in a clinical experiment to successfully relieve fatigue in women with endometriosis. For eight weeks, a group of women got either this treatment or a placebo. The results revealed that it was much more effective at relieving fatigue than the placebo.
Some observational studies have also shown that this treatment effectively treats endometriosis-related infertility. In one study, it was found to be effective in treating endometriosis-related infertility in 70% of women treated with it.
This treatment can be taken in supplement form. Supplements such as omega-3 fatty acids, found in oily fish, linseeds, flaxseed oil, hemp seeds and walnuts, are frequently recommended in treating endometriosis because they are known to lower inflammation and relieve chronic pain symptoms. It is also available in over-the-counter medications and it can be used in conjunction with other treatments for endometriosis, such as hormone therapy and surgery. Hormone therapy involves taking medication to reduce estrogen levels in the body. Surgery is for removing endometrial tissue from the body.
The treatment has powerful antioxidant and anti-inflammatory properties. These properties help to protect the cells and tissues from damage. They also help to reduce discomfort and inflammation.
This treatment is safe and well-tolerated with few side effects. The side effects include daytime sleepiness, headaches and dizziness.
It is an affordable treatment for endometriosis that is widely available. The costs vary but are generally low.
Conclusion
Melatonin is a safe and effective treatment for endometriosis with few side effects. It is a natural treatment that is widely available and affordable. It can be used in conjunction with other treatments for endometriosis, such as hormone therapy and surgery. If you are considering using this treatment to treat endometriosis, speak to your doctor about the best dose.