Uterine fibroids can interfere with the process of egg fertilization and can also prevent proper embryo implantation, contributing to infertility.
John Hopkins Medicine Fertility Center describes uterine fibroids as being quite common, particularly among women of 35 years of age and older and list this condition among the leading contributors to female infertility. According to the New York Department of Health, these non-cancerous fibrous growths are the leading cause of hysterectomies. Fibroid growths can vary greatly in size and reproductive health impact.
Understanding Uterine Fibroids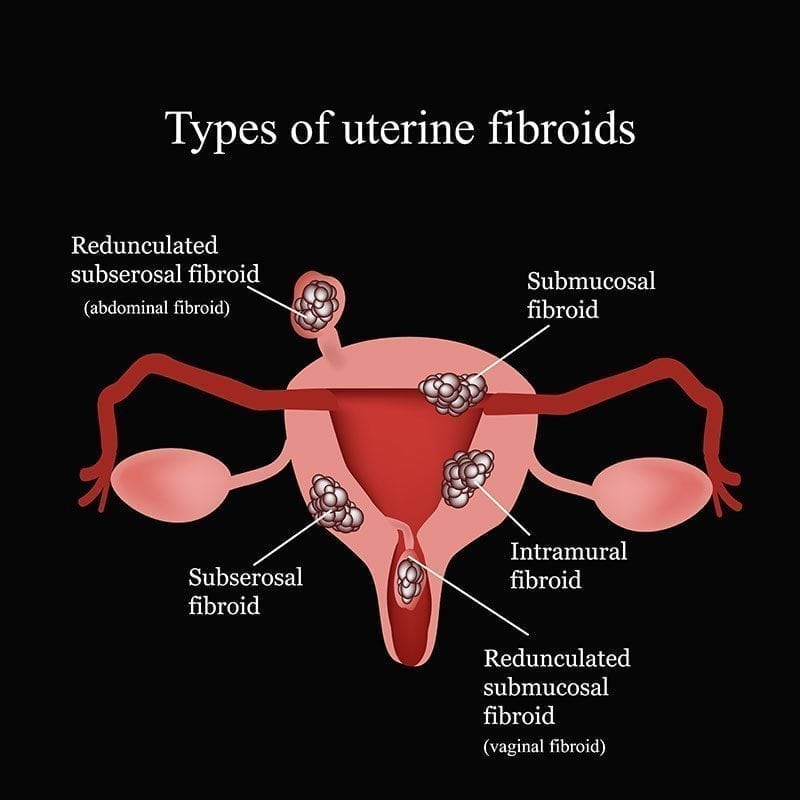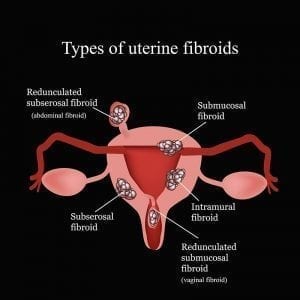 Also referred to as fibroid tumors, these growths are made up of fibrous tissues similar in composition to muscle tissue. These non-cancerous growths are generally found on the muscular wall of the uterus, inside the uterus or on the outside of it, and can vary widely in size. Some fibroids are small, about the size of a lentil, and others can be the size of a mango or, in rare cases, even larger. These growths can vary in shape as well, with some being rather bulbous in shape and others having a longer, stalk-like appearance.
A woman can have a genetic predisposition to developing fibroids. Research has determined that fibroids tend to run in families and this condition also seems to be more prominent among African-American women and obese women. Hormone fluctuations can fuel fibroid growth and shrinkage. For example, fibroids can significantly shrink after menopause because the estrogen levels in the female body drop.
Diagnosis can be tricky, as fibroid masses or growths that are not large enough to exert pressure on surrounding organs or obviously interfere with reproductive processes often have no symptoms that a woman can readily discern.
When the size or location of these growths do present symptoms, a woman is likely to experience pain and discomfort in the pelvic region, heavy bleeding during menstrual cycles, bleeding between cycles, pain in the lower back, discomfort or pain during sexual intercourse and lower abdominal bloating. Pain can radiate out of the pelvic region if the size and location of the fibroid growths or masses put pressure on other organs. Ultrasounds, both standard and trans-vaginal, MRIs and CT scans are often used to diagnose this health condition.
Impact On Reproductive Health
The primary ways that fibroids in or on the uterus contribute to infertility are through preventing egg fertilization and disrupting embryo implantation. Fibroid growths can shift the position of the cervix or block its opening, preventing sperm from reaching an egg to fertilize it. The fallopian tubes can be impacted in a similar manner, preventing an egg from traveling down from the ovaries. If fibroids are large enough or positioned in a manner that affects the ability of the uterus to contract, then sperm, ovum and embryos may not be able to move to where they need to be, disrupting reproductive processes. Growths inside of the uterus can alter the surface of the uterine wall, making it impossible for an embryo to implant.
Treatment Methods
In many cases, uterine fibroids cause no symptoms and do not require medical treatment. In the other cases, there is a range of treatment methods available, depending on the size and severity of fibroids.

Medical Treatment
For less severe cases, hormonal treatments can be successful. It may seem counter-intuitive for a woman concerned about infertility to take a low-dose birth control pill or use the estrogen-reducing GnRHa hormone treatment, however, these hormone-based treatments are often employed to shrink fibroids before surgery to remove them. For women seeking conception, surgery typically provides the best outcome, provided that a surgical method with the intent of preserving reproductive function is used.
In these cases, the following methods can be used:
Ulipristal Acetate
This new kind of drug therapy may help to shrink fibroids. This type of treatment is usually applied prior to surgery. Ulipristal acetate is a selective progesterone receptor modulator and works by blocking the effects of the female hormone progesterone, which is responsible for the growth of fibroids. This drug helps to reduce bleeding, and often it can be stopped entirely. The treatment period extends over three months and can optionally be repeated several times.
Myomectomy
With this technique the uterus can be preserved. This is especially important for women who still have a desire to have children. Fibroids are surgically removed from the uterus, using various techniques like 
laparoscopic myomectomy
, laparotomy and hysteroscopic myomectomy. Resorting to this type
 of treatment depends on the size, number and location of the fibroids.
Hysterectomy
When the desire to have children has been completed, the complete removal of the uterus can be useful. This kind of surgery is mainly considered if a woman has a lot of large fibroids, which are very painful and is performed under general anesthesia. Thus, no more fibroids may arise in future.

Uterine Fibroid Embolization
This minimally-invasive method blocks blood flow to fibroids in the uterus. Thus fibroids should shrink within a few weeks or months. Even with this technique, the uterus can be preserved. Moreover, this procedure is secure and gentle.
Sonalleve (MR-HIFU)
A novel technique directed ultrasonic pulses precisely to the fibroid, causing the tissue to die and to shrink the fibroid. The procedure is performed on an outpatient basis and takes several hours. Complaints of pain and discomfort from the fibroids should be significantly alleviated.