When you hear the word "cancer," it's natural to assume that your fertility is at risk. And that may be the case for some women. Endometrial cancer is a cancer that arises in the uterus's endometrium or inner lining. It is one of the most common gynecological cancers and has a high survival rate if detected early. Typically, endometrial cancer is diagnosed after age 60, and it is not common in women under the age of 45.
Not all women diagnosed with endometrial cancer experience a reduced ability to conceive and carry children. For those that do, there are ways to maintain or even increase the chance of conceiving after treatment.
If you are diagnosed with endometrial cancer, these factors can affect the prognosis and treatment options:
duration of symptoms
location of the cancer
type of cancer (carcinoma, adenocarcinoma, sarcoma)
stage of development of cancer (I-IV)
whether the cancer has spread to other organs or tissues (metastasis)
whether progesterone has affected cancer cells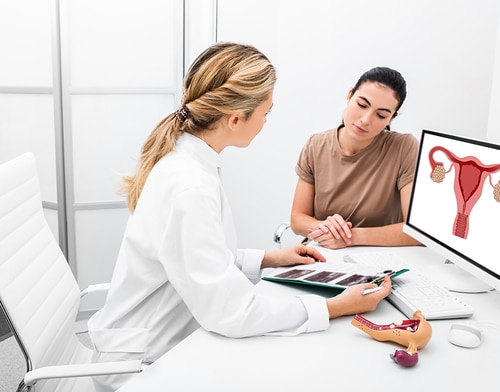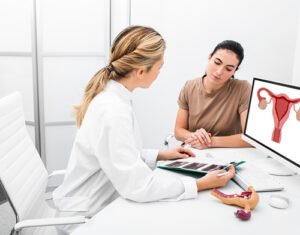 Even if you are in a position to believe that your cancer and its treatment will prevent you from having children, knowing what to expect ahead of time can help you prepare for what's coming so that you can make informed decisions about how to proceed.
Symptoms of Endometrial Cancer
Following are some of the most common symptoms of endometrial cancer.
Risk Factors for Endometrial Cancer
Endometrial cancer occurs when abnormal cells in the endometrium become malignant, or cancerous, and begin to grow in an uncontrolled way. Endometrial cancer is thought to be caused by a genetic mutation in the endometrial cells.
Although the exact cause of endometrial cancer is not fully understood, the factors listed below are known to increase a woman's risk.
Abnormal or excessive fat accumulation in the body can increase the chances of endometrial cancer. Maintaining a healthy body weight by eating healthily and exercising regularly is recommended.
Taking hormones can increase the chance of endometrial cancer. If you are postmenopausal, you should discuss the risks of hormone therapy with your doctor and consider alternatives for managing menopausal symptoms. Also, if you are planning to get pregnant, it is important to visit a doctor and discuss the pros and cons of hormone therapy during pregnancy.
Birth control pills can be an option for women who are concerned about endometrial cancer. However, it is important to consider the risks of taking birth control pills. Although oral contraceptives have been associated with a lower risk of endometrial cancer, taking oral contraceptives may increase your risk of other types of cancers, such as breast cancer and cervical cancer.
Understanding endometrial cancer and fertility is important for women who want to become pregnant. It can help you make informed decisions about your treatment and support your family's well-being and future. This will help you to feel more in control of your situation and to have a better quality of life.
If you or your loved one is diagnosed with endometrial cancer, get the facts to determine how your treatment will affect your ability to have a baby in the future. It's important to understand the facts and what to expect.