Stress reduction is a well-known ploy to boost overall health, with specific benefits to improving fertility and pregnancy success when paired with online therapy.
While therapy and low stress alone aren't enough for women to conceive and achieve a healthy pregnancy, they join other factors to boost the chances of both. Couples who are stretched on time have convenient counseling options. Advances in cognitive therapy have led to effective online options and the availability of therapists to work around hectic schedules.
Links Between Stress and Infertility
Pressure to Conceive
The decision to have a baby is joyful, but it can add pressure. Conceiving takes longer for some women than others, so disappointment may increase anxieties or discourage trying.
Needs of Other Children
Even with time spans between pregnancies, some couples are still responsible for other children. They may get overwhelmed with balancing children's activities and routines with the intimacy and the planning it takes to expand the family.
Work and Career
People who love their jobs rarely like unplanned emergencies and high workloads. Business owners have even more to mitigate. When women undergo infertility treatments, stressful work and careers are often the culprits behind interrupted plans.
Stress Hormones Unbalance the Body and Mind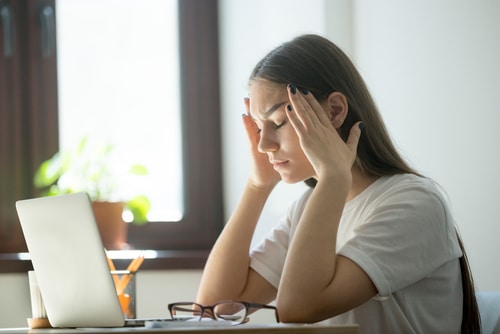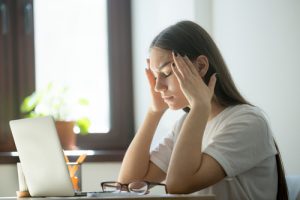 Stress causes the body to release hormones known to increase tension, kill libido, and promote infertility. It also overwhelms people, and they sacrifice good habits for improving fertility: excellent nutrition, regular exercise and restful sleep. Detrimental effects from the resulting bad habits dim the optimism and energy women need to navigate the infertility journey.
A woman's ovulation is a delicate balance of estrogen and progesterone levels. Men need optimal testosterone levels to produce healthy sperm and feel up to sex. These are the most-discussed hormones for improving fertility, but couples must be mindful of others.
Cortisol is released in response to stress and can disrupt reproductive hormones, inhibit ovulation and destroy sperm cells.
Adrenaline, the "fight-or-flight" hormone, revs metabolisms and temperatures up from normal levels toward imbalance throughout the endocrine system.
Insulin is a lesser-known "fight-or-flight" hormone that stress inspires, and elevated blood sugar levels can make it harder to get pregnant.
Improving Fertility With Online Therapy
For a woman to overcome infertility, stress reduction gives strategies and treatments the best chances to work. Researchers believe women suffering from infertility can reduce stress with online cognitive therapy programs to create positive outlooks and hormonal balances. A therapist can help a woman gain confidence about improving fertility and provide coping mechanisms for unrelated stressors causing unhealthy habits or hormone levels.
Fertility Counselors Work Online
Infertility is an emotional, private matter some women and couples don't wish to share widely. Many reproductive endocrinologists recommend a fertility counselor as a support to cope through any difficult times. Online counseling can occur in the comfort of couples' homes, eliminating stressful travel and allowing more freedom to emote in sessions.
Online Therapy May Be More Effective
Cognitive behavioral therapy (CBT), or traditional "talk therapy," identifies and reverses negative thinking patterns. In cases outside of serious mental disorder, it is less important to meet therapists in-person than to keep regular appointments. As CBT is a cumulative process, skipped sessions prevent clients from building on the previous sessions.
Online therapy accommodates people with busy schedules and little room to leave the office or home. Take the same precautions with online therapy and fertility counselors as for in-person professionals:
All therapists should be accredited. Avoid generic support apps or websites that may use laypersons without proper degrees or training.
For fertility counselors in particular, check the database of the American Society of Reproductive Medicine (ASRM) for Mental Health Professionals or consult the National Infertility Association.
Online Therapy Renews Connection
Love, connection and relationships ease stress naturally. However, too many relationships become more focused on organization and daily life than the initial stress-relieving bond.
Online therapy for improving infertility helps women reconnect with their partners. Calmed minds and optimism rejuvenate the warm, fuzzy feelings of love. This natural relaxation and its effect on intimacy might help couples conceive sooner than they had planned.