The everyday product known as ghee is rumored to have significant fertility benefits for both men and women.
This substance, which originated in India, has been used in religious rituals and is considered sacred in certain cultures. It is also a staple of Asian and Middle Eastern cuisine. The product is also believed to possess a whole host of medicinal, health and healing properties, some of which have been practiced for centuries.
What is Ghee?
In simple terms, the product is a form of butter produced from the milk of grass-fed cows. However, it is different from the types of butter and butter substitutes commonly purchased in supermarkets because it only contains the condiment's most basic and pure element: butter fat. Known as a type of clarified butter because milk solids and water, the other two primary ingredients of butter are removed during the production process.
How is the Product Produced?
Placing butter into a pan or pot and gradually bringing it to a boil creates the substance. When the condiment reaches optimal heat, the water contained within it evaporates and its other substances are burned away, leaving only butter fat. This process can be performed by anyone with a stove and a container suitable for melting butter. Many chefs like to cook with this product because it does not burn like other forms of butter often do. Those not able to make the product themselves will find it is found in abundance and easy to purchase.
What Are Some Of Ghee's Health Benefits?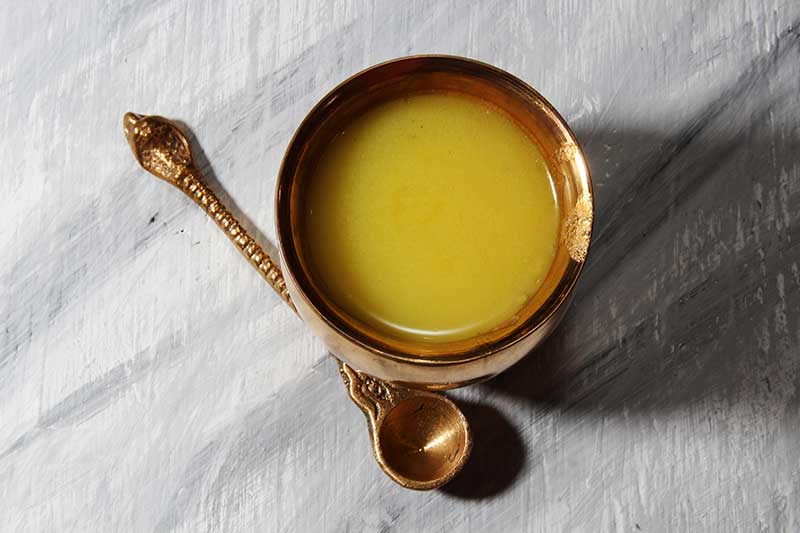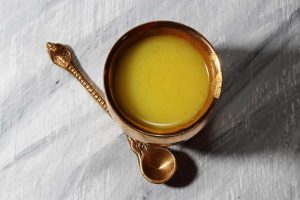 The type of fat contained in the condiment are called short-chain and medium-chain fatty acids. Unlike other fat substances, these are not believed not to contribute to the development of heart disease. Ghee also contains essential nutrients like vitamins A, D, E and K2. It assists the body in absorbing these nutrients, helps aid in weight loss and digestion and reduces inflammation commonly seen in many body systems.
In addition to its many health benefits, the product is also believed to play a significant role in increasing the fertility of both men and women.
Impacts on Both Men and Women
Conception typically takes effort and exertion. Like any other activity requiring effort, a sound and healthy body are needed. The clarified butter product offers couples the opportunity to consume more nutritious foods and prepare them in a healthier way. In addition, its healing properties can keep those looking to conceive stronger and in better health by giving them more energy and helping keep illnesses at bay.
The butter substance helps women's bodies produce cholesterol. Cholesterol is necessary for women to create and maintain higher levels of estrogen and progesterone, two hormones that are critical for fertility.
Impact on Unborn and Future Children
While the product can positively impact fertility and a couple's ability to conceive, it can also have a solid effect on children before and after they are born. Products containing healthy fats are said to help develop a fetus's brain.
Therefore, a mother should not merely consume these products for her own health and fertility, but also for the internal and intellectual well-being of their child as well.