Starting a family plays a major role for couples at a certain life stage. However, some men who have tried conceiving are dealing with a hiccup: They have trouble ejaculating. Ejaculation is the process during which sperm is released from a male's penis during an orgasm. If you've noticed little to no sperm released during climax, chances are that you're dealing with retrograde ejaculation.
Retrograde ejaculation is a condition that forces sperm back into the bladder. In normal cases, sperm travels through the duct system and is expelled through the urethra. The urethra is also the opening that you urinate from. When you orgasm, a muscle closes off your bladder, which makes it difficult to release urine. However, in men suffering from retrograde ejaculation, the sphincter that is meant to close access to the bladder doesn't do that, which causes the sperm to be pulled into the bladder instead of leaving the penis.
Luckily, this isn't a life-threatening condition. You may not even notice that you're dealing with this condition since it isn't painful. If you believe you're dealing with this condition, here's a list of symptoms, diagnosis methods and your treatment options.
Do I Have Retrograde Ejaculation?
As previously mentioned, most men notice they have an issue when they climax and very little sperm comes out, which makes it difficult to reproduce. This is commonly referred to as a dry orgasm. The only reason this condition might be a cause for concern is if you're interested in having a child. Otherwise, it won't cause health issues for you.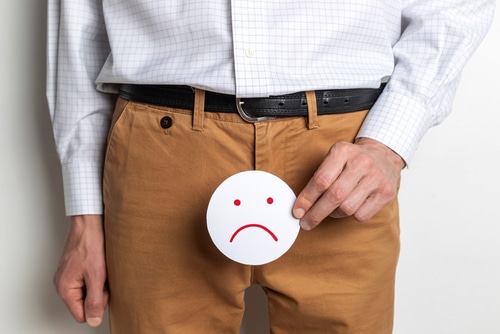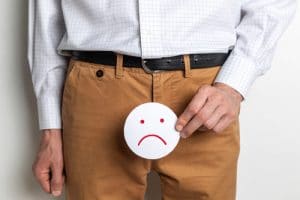 In addition to dry orgasm as a symptom of this condition, it's common to have cloudy urine when you pee after sex. Since the sperm retrogrades, or moves backward, it is trapped within your bladder until you use the bathroom.
Men who notice either of these symptoms or have had trouble getting a woman pregnant should see a doctor for a proper diagnosis. Sometimes, retrograde ejaculation is mistaken as a symptom of another condition like low sperm production. Thus, it's important to get an evaluation from a medical professional or fertility specialist.
How Doctors Diagnose Retrograde Ejaculation
During your visit, your doctor will inquire about your medical history and perform an exam to find the source of your dry orgasms. This exam involves a urine test. Then, they'll ask you to provide an additional urine sample that is collected after ejaculation.
If there's a high concentration of semen in the second sample, your physician will conclude that you have retrograde ejaculation. From there, he or she will find the appropriate treatment option for you.
For instance, men who experience this condition because of nerve damage are recommended to take medication. Decongestants, antihistamines and certain blood sugar or antidepressant medications work for some sufferers.
However, men who have high blood pressure or heart disease can experience complications when taking certain forms of medication. You're also ineligible if you have severe nerve damage caused by an operation.
If you have a heart-related condition and want to have a baby, don't be discouraged. There are still options for you, even if you can't take medication. Specialists can take your samples and extract the semen from the urine, which would then be used to fertilize your partner's egg.
Fortunately for you, dealing with retrograde ejaculation typically isn't painful. In fact, experiencing and maintaining an erection isn't an issue. Unless you're trying to get someone pregnant, you may not even realize you have this condition.
If you notice you're experiencing dry orgasms on a consistent basis, seek medical attention as soon as possible to rule out any underlying health conditions.
If fertility is your goal, you'll want to find a quality specialist as soon as possible. Doing so can give you your official diagnosis and subsequently help you find the right treatment option.