Hidradenitis suppurativa (HS) is a chronic, recurring skin disease that often causes painful abscesses and boils to form in the armpits, groin, buttocks, under the breasts or around the navel.
It usually starts with one or more spots of acne-like pimples in an area but may become scarred over time. Hidradenitis suppurativa can also be found on other body parts not listed above, such as fingers, toes and scalp. The leading cause for this condition is unknown, but it has been linked to polycystic ovarian syndrome (PCOS). PCOS occurs when there are high levels of male hormones, called androgens, produced by a woman's ovaries. Androgens are naturally occurring hormones that stimulate hair growth on a woman's face, chest, abdomen and underarms. Hormonal therapies for PCOS have been shown to improve HS-related acne in some cases.
Effect of Hidradenitis Suppurativa on PCOS
The effect of the condition on PCOS can be debilitating for women who have it. It can cause emotional distress due to pain, embarrassment and discomfort, all of which leads to low self-esteem, depression and anxiety about leaving the house.
It is important for women living with PCOS to see a dermatologist if they suspect they may have HS, as it is often confused with simple acne. If you think you might have HS, you should visit your local dermatologist or general practitioner.
The effects of the condition do not stop with skin problems. A 2004 study of reproductive-age women (ages 15 to 44) found that the most common symptoms reported by those with HS were similar to those among women with PCOS: pain and tenderness in the affected areas, absence of a regular menstrual cycle and excess body or facial hair.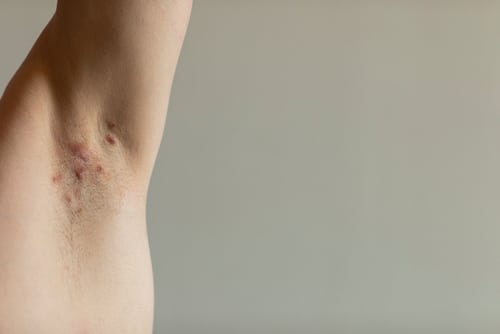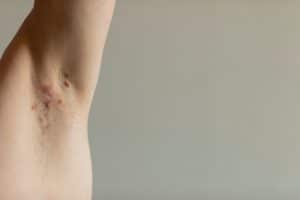 A frequent finding in women who have PCOS and acne is the presence of acanthosis nigricans. This is a condition characterized by hyperpigmentation, or darkening, of the skin that occurs in body folds such as the neck, groin and underarms. The skin appears thickened or velvety in texture.
The cause of acanthosis nigricans is not fully understood, but it has been linked to obesity, PCOS, insulin resistance and diabetes. Acanthosis nigricans is commonly associated with obesity. In most cases, it can be addressed through weight loss and improvements in insulin resistance. In the case of HS, acanthosis nigricans also responds to treatment with antibiotics or hormonal therapies.
Hidradenitis suppurativa is a chronic skin disease affecting millions of Americans, which often causes painful abscesses, boils and cysts, which can eventually scar. While it has been linked to polycystic ovarian syndrome, the exact cause is unknown.
Like many other skin conditions, hidradenitis suppurativa may worsen with obesity and lack of proper hygiene during menstruation. Hormonal therapies for PCOS have shown some success in treating HS-related acne and acanthosis nigricans. Treatment involves antibiotics to control infection, antiandrogens to reduce male hormone levels and hormonal therapies for PCOS.
While many people can still lead normal lives with HS, it is better to prevent the condition from occurring at all. Maintaining a healthy weight, practicing good hygiene, avoiding wearing tight clothes or white socks, and getting regular exercise will help reduce developing HS.
Treatment of Hidradenitis Suppurativa
Treatment of hidradenitis suppurativa often requires a team effort involving dermatologists, general physicians and surgeons. In addition to antibiotic creams to treat milder forms of HS as well as anti-inflammatory medications, surgery may be needed in order to drain abscesses or remove affected tissue in severe cases.
Conclusion
Hormonal therapies for PCOS have been shown to improve HS-related acne in some cases. It is recommended that those with PCOS and skin problems such as acne and acanthosis nigricans discuss the condition with a doctor.