PCOS is a serious health issue that causes infertility in women and that has been linked to cigarette smoking. The link between smoking and PCOS is just another among many reasons to quit the habit.
It's no secret smoking is harmful to everyone, but it can cause more damage to women than it does to men. Recent research links smoking to polycystic ovary syndrome (PCOS). The condition causes a woman's body to secrete more androgen, leading to numerous cysts in the ovaries. As a result, ladies with the condition experience ovulation problems, sex hormone imbalances and irregular menstrual cycles.
The condition is common among smoking women, and there is no known cure. However, it is managed by living a healthy lifestyle. And that, ladies, means it's time to give up smoking! Besides, smoking makes PCOS symptoms worse and can make a woman infertile.
Common Symptoms of PCOS
The symptoms vary from one woman to another, as different bodies showcase different reactions to smoking. However, they are easily noticeable and could be painful. Here are the common signs of PCOS.
Painful cramps
Irregular periods
Reduced sexual desire
Acne
However, cigarette smoking could cause far more extensive damage, but evidence of it might not be easily identifiable. For instance, some women's bodies show lower insulin production and calculated free testosterone and higher androgen index scores. Hormonal imbalances cannot be physically recognized, but their effect leads to other recurring problems. Thus, ladies ought to avoid smoking to keep their bodies healthy and raise their chances of conceiving.
Click here for A Complete Guide to Polycystic Ovary Syndrome
Can Cigarette Smoking Cause Polycystic Ovary Syndrome (PCOS)?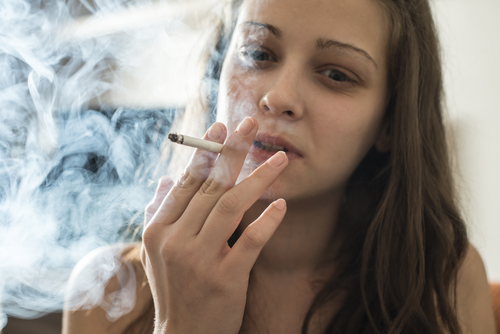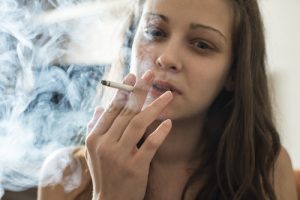 Smoking is a lifestyle risk factor that contributes towards reproductive problems in women significantly. Women with polycystic ovary syndrome experience more severe symptoms when exposed to smoking, while those who don't have the condition increase their chances of developing it.
The complex blend of chemical elements in cigarettes exposes women to more fertility issues than any lifestyle condition. Chemicals mainly target the ovaries, uterus and oviducts, making it difficult to conceive or successfully carry a pregnancy. Just recently, research further uncovered the devastating effects of smoking, with the link between cigarettes smoke and PCOS being prevalent. Another study demonstrated smoking caused more damage to women with PCOS and patients with ovulation problems, making it difficult to carry a pregnancy.
Can Quitting Smoking Help Control PCOS
Before making an overly simple conclusion, let's remember that smoking is highly addictive. As such, to quit smoking, you need a therapy program and a new lifestyle. However, quitting helps in controlling the adverse effects of PCOS significantly.
Chemicals in cigarette smoke trigger high blood pressure, worsening PCOS. Thus, the side effects of PCOS can be mitigated if you develop a plan to stop smoking and detoxify the body.
Common Smoking-Related Problems Leading to Fertility Complications
Fallopian tube problems such as clogging (preventing fertilization from taking place) and higher risk of ectopic pregnancies
Damage to eggs while developing in the ovaries
Higher chances of miscarriage due to damaged fetus and changes in the uterine lining, making successful implantation difficult
The byproducts of smoking, such as carbon monoxide and nicotine, damage the inner lining of the heart and blood vessels, further affecting blood flow. All in all, there are more than enough reasons to say goodbye to smoking.
Bottom Line
It is proven that smoking is linked to PCOS among other health concerns. Fertility issues trigger many emotions and lifelong regrets since smoking shortens the conceiving window and menopause comes early.
The good news is that you can manage the damage caused by cigarette smoking to the reproductive system. Typically, natural fertility should increase after quitting smoking for one year.