In this blog, topics to be examined include how specific vaccinations may influence women's ability to conceive and what options they can employ if their health or circumstances dictate such preventive health protocols.
What Vaccines Precipitate Fertility Concerns?
The notion of vaccinations' link to infertility has been the subject of numerous scientific studies. One major inoculation concern is that the Human Papillomavirus (HPV) injection might elicit fertility problems.
HPV is the most common sexually transmitted disease (STD) in the United States. Nearly 80 million people have this virus. The majority of those infected range between their mid- to late teens and their mid-20s. In cases where the virus is left untreated, or in instances where the infection does not resolve on its own, impacted persons could be subject to genital warts or even reproductive-tract cancers later in life.
One seven-year study that ended in 2014 and was conducted by researchers representing the City University of New York scrutinized the fertility rates of eight million women who resided in the United States and were anywhere from 25 to 29 years of age. Roughly 60 percent of those participants who were not administered the HPV inoculation experienced at least one pregnancy, while a mere 35 percent of those who were given the vaccine successfully conceived.
Medical professionals recommend that all young people who are sexually active or plan to be active receive the HPV injection. However, women who fear the preventive measure may precipitate fertility issues may be able to avoid administration of the vaccine if they practice safe sex or abstinence.
Are More Routine Vaccinations any Safer?
Scientists have found that vaccinations designed to prevent more common but less preventable health problems could pose just as big a threat to a woman's fertility as the HPV inoculation. One preventive protocol that has received significant scrutiny in recent years is the Tetanus Toxoid (TT) injection. Tetanus, also known as lockjaw, is a bacterial infection that impacts the muscles and can result in death if treatment is not rapidly administered.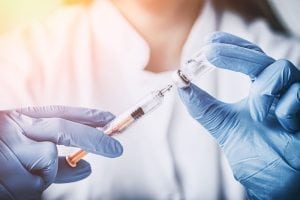 Since the early 1970s, the TT inoculation has been administered to women worldwide with the goal of preventing the development of tetanus in them and their unborn children. However, scientists throughout the world who have studied this vaccination have found that the preparation can cause the body to produce antibodies geared toward preventing pregnancies or stopping existing ones; thus, it can result in fertility and conception problems in young women. In certain instances, these antibodies might induce the damage or destruction of developing fetuses. Therefore, this preventive protocol has raised ethical questions about whether it should be administered at all.
Flu shots administered for common strains of influenza and the swine flu have also raised concerns. Some researchers opine that flu shots may precipitate infertility and could potentially pose a health risk for pregnant women who receive such inoculations.
Illnesses caused by the influenza viruses can be very serious. This is especially true in individuals with other underlying ailments or specific health conditions. It is therefore recommended that women who wish to avoid the administration of the vaccination on such grounds discuss their concerns with their doctors who can help them weigh the pros and cons before making any final decision.