Did you know that estrogen dominance is one of the leading risk factors for developing breast cancer and other hormone-sensitive cancers? Estrogen dominance is a condition in which estrogen levels are unbalanced. Estrogen is a hormone commonly known as the "female" hormone because women produce it in much higher quantities than men. However, both women and men produce estrogen; it's just that men typically have smaller amounts and are in a different form than women.
Estrogen plays a key role not only during the onset of puberty but also throughout adulthood. Therefore, understanding all about estrogen dominance can help you take measures to protect yourself from developing breast cancer or another hormone-sensitive cancer later on, should you be at risk for it. This article will look at the signs and symptoms of excess estrogen, the cause, and how to treat it.
Signs and Symptoms of Estrogen Dominance
Estrogen dominance causes many symptoms, some similar to other conditions. It's important to note that not everyone experiences symptoms similarly. Some of the more common signs and symptoms include:
1. Breast Tenderness
This common symptom can be experienced both before and after your menstrual cycle. It can signify that you have too much estrogen, which makes your breasts sensitive to external stimuli like clothing.
2. Weight Gain
Estrogen dominance causes fat to be stored in the abdominal area, which is why women with high estrogen levels are more likely to have a "pooch" around the belly.
3. Mood Swings
Estrogen dominance causes estrogen production to increase, which can then cause estrogen levels to fluctuate. This can affect your mood and make you feel irritable.
4. Abnormal Vaginal Bleeding
Bleeding between periods amongst women or girls who have been menstruating for several years without stopping. Additionally, an increase in discharge from the vagina, especially if thick and white/creamy in color. A fishy odor may accompany the discharge. If you experience this, it's important to see your doctor immediately since these can be signs of infection.
Causes Of Estrogen Dominance
Estrogen dominance may occur due to a variety of reasons. Some of these include:
1. Stress and Fatigue
Stress and fatigue are a few of the leading causes of estrogen dominance. When you're stressed or tired, your body produces more estrogen than usual. It does this to help you relax, but when it does so too much, it can cause hormone imbalance.
For some helpful Stress Reduction Techniques to Help with Conception, click here.
2. Changes in Estrogen Metabolism and Excretion
Estrogen dominance can also occur when your body doesn't process estrogen properly. For instance, if you have a hormonal imbalance, your body may not be able to metabolize and excrete estrogen properly. This can lead to more estrogen in your system than usual.
3. An Imbalance in The Estrogen to Progesterone Ratio
Hormone balance is extremely important in the body. If there isn't enough progesterone, you may develop estrogen dominance. This can also happen if your body doesn't produce enough progesterone.
4. Overproduction of Estrogen in The Body
Another way estrogen can get out of balance is by producing too much estrogen. This can happen when you have a genetic predisposition or taking certain medications such as birth control pills, hormone replacement therapy, and certain antidepressants.
How Does Estrogen Dominance Affect Fertility?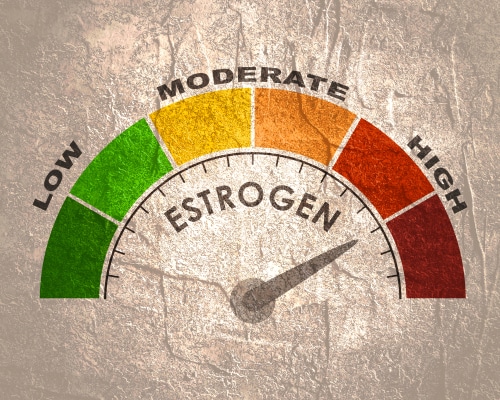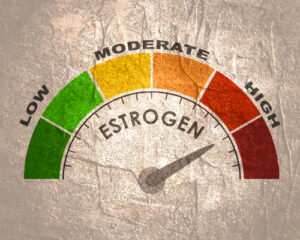 Because of the importance that estrogen plays in female fertility, estrogen dominance has several negative effects on a woman's health, including irregular menstruation (heavy, painful periods), premenstrual syndrome, headaches, decreased sex desire, bloating, mood swings, exhaustion, anxiety, depression, sore breasts, endometriosis, fibroids, and weight gain.
Estrogen is responsible for maintaining the reproductive system. It helps maintain the menstrual cycle, ovulation, and fertility. When estrogen levels are too high, it may lead to infertility.
Treatment of Estrogen Dominance
In short, there is no cure for estrogen dominance, however, some treatments can reduce the amount of estrogen circulating in the body and ease symptoms. These treatments include:
1. Medications
Several medications can be used to treat it. These drugs block the effect of estrogen on cells. They treat excess estrogen symptoms such as excessive vaginal bleeding, headaches, acne, and hair loss.
2. Lifestyle Changes
Lifestyle changes can be a major influencer when it comes to treating estrogen dominance. These changes include:
Following a healthy diet, including eating a diet rich in phytoestrogens and plant-based compounds that mimic estrogen in the body.
Reducing stress, which can increase the levels of hormones such as cortisol and adrenaline. These hormones can affect estrogen levels. If your stress increases significantly, you may need professional help to address your stress levels.
Exercising regularly and maintaining a healthy weight are both good for overall health and contribute to reducing stress levels. Exercise has also been shown to reduce symptoms of excess estrogens, such as headaches, breast pain, and hair loss.
While estrogen dominance may seem under control with limited side effects and natural management methods, in general, anyone experiencing symptoms of excess estrogen should see their doctor for proper diagnosis and treatment options, especially if fertility or pregnancy are concerns.