If you're looking to boost your fertility you're probably making sure you watch what you eat and are getting regular exercise. But did you know that too much exercise might negatively impact the ability to become pregnant?
In most instances, exercise is deemed a worthwhile endeavor designed to help individuals improve their health while building strength and muscle tone. However, some medical professionals believe too much physical activity could result in an adverse impact upon a person's fertility.
Excessive Exercise; A Threat to Conception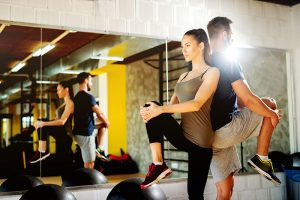 When executed in moderation, exercise typically enhances the well-being and longevity of both men and women. However, when taken to the extreme, physical exertion can precipitate several medical issues that could lead to a serious decline in fertility levels.
In women, overexertion can precipitate a rapid loss of body weight. Ladies who are underweight and/or considered too skinny for their height are potentially at greater risk of experiencing fertility challenges because their bodies are not strong enough to handle carrying a child. In addition, when a woman overtaxes her body, the stress may cause hormonal imbalances that interrupt normal menstrual cycles. Excessive exercise may also lead to injuries. When such injuries or wounds occur, the body is forced to use significant amounts of energy for healing, which limits its ability to conceive.
Men are not immune to exercise-related fertility problems either. Working out too frequently can precipitate low sperm counts, as well as sperm quality issues (faulty shape, poor motility) due to overheated testes.
Exercises That Should Be Avoided
The types of physical activities and workout regiments that might impact someone's fertility vary from individual to individual and may depend upon numerous factors such as his or her age, height, weight and overall general health. Those seeking to conceive a child and/or experiencing fertility difficulties are advised to consult with their physicians before beginning or continuing any exercise program. A doctor or personal trainer may be able to help tailor the best and/or most appropriate workout plan depending upon the person's specific circumstances.
That said, there are specific activities fertility challenged and/or would-be parents might be better off avoiding. Women may opt not to partake in strenuous and ultra-taxing sports like ballet, distance running (mini and full marathons), gymnastics and heavy-duty weight training, unless approved by their doctor to continue with. Men are advised to think twice about participating in activities such as excessive cycling, which not only causes the testes to overheat, but also places undue pressure and strain on the sperm-producing organs.
Recommended Activities
Doctors and personal trainers suggest participating in lighter-intensity exercises like walking, yoga and Tai Chi. These activities stimulate the muscles and promote weight loss, but do so without causing the body to burn excess calories and/or fat.
Consistent exercise does not guarantee that a man and/or a woman will be plagued with fertility challenges. However, for those people hoping to conceive a child and/or whom have dealt with fertility issues, physical exertion should be undertaken in moderation. That said, men and women committed to exercise can employ several steps to remain as fertile as possible, including the consumption of a healthy and balanced diet, limiting stress as much as possible and receiving adequate rest.
In addition, while involved in any exercise program, women are advised to consider monitoring their menstrual cycles and promptly bringing any changes to the attention of their physicians. It is suggested that both men and women who call themselves physical activity enthusiasts see a fertility specialist, particularly if they have been trying to conceive a child for one year without any luck. These trained doctors may be able to pinpoint the conception problem to excessive physical exertion and could offer advice on what corrective measures to employ.